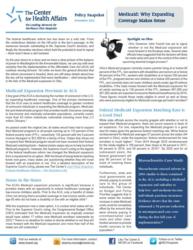 Cleveland, OH (PRWEB) December 05, 2012
The Center for Health Affairs' November policy snapshot, Medicaid: Why Expanding Coverage Makes Sense, provides context for the issues surrounding potential Ohio Medicaid expansion and why the state's decision is so important.
While the Supreme Court did uphold the legality of the Affordable Care Act, it made the provision requiring states to expand their Medicaid programs optional. Ohio Governor John Kasich has yet to signal whether or not the Medicaid expansion will move forward in the Buckeye State. While state officials grapple with whether or not to expand their Medicaid programs, there are sound reasons in favor of an expansion, including the opportunity to extend health coverage to low-income, childless adults.
For a complete listing of The Center's healthcare policy snapshots, visit our website.