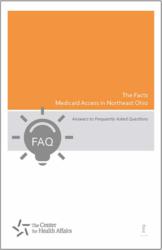 Cleveland, OH (PRWEB) April 09, 2013
The Center for Health Affairs has just released its Medicaid extension FAQ to address the abundance of questions repeatedly emphasized by Ohio policymakers. The brochure summarizes the impact extending the state's current Medicaid program would have on Northeast Ohio.
After meeting with dozens of lawmakers on the topic and learning of the numerous questions they had, the need for The Center to release the Medicaid extension FAQ became clear. The publication is intended to serve as a go-to answer book to recurring questions and as a vehicle to dispel common misconceptions as legislators prepare to make their decision on Medicaid extension. The pamphlet-like format allows for readers to easily access key facts and figures of the proposal, including who would be covered by the extension and what costs Ohio would incur over time.
Decisions by the state legislature to expand the existing program must be made by the end of June; however, lawmakers are already carefully considering the issue with a series of votes scheduled prior to June. To ensure that the lawmakers have the information they need for this important debate, The Center has arranged for the Medicaid extension FAQ to be waiting for them as they return this week from their spring recess.
To learn more about this topic visit The Center's Ohio Medicaid issue site.
For more information regarding the Medicaid extension FAQ, visit The Center's website, or contact Deanna Moore at 216.255.3614 or deanna(dot)moore(at)chanet(dot)org.
The Center for Health Affairs is the leading advocate for Northeast Ohio hospitals, serving those organizations and others through a variety of advocacy and business management services. The Center also works to inform the public about issues that affect the delivery of health care. Formed by a visionary group of hospital leaders 96 years ago, The Center continues to operate on the principle that by working together hospitals can ensure the availability and accessibility of health care services.