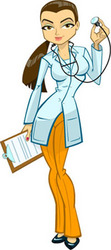 We created Dr. America Billing because we believe in streamlining the management side of medicine
Woodland Hills, CA (PRWEB) April 21, 2009
Announcing his plan to modernize healthcare, President Obama has called upon the nation's healthcare system to step up efforts to convert patient medical records to a digital format. Dr. America Billing has answered the call. This new medical billing company helps doctors digitize and become more efficient with an array of services.
"We created Dr. America Billing because we believe in streamlining the management side of medicine," says Ron LeClair, CEO of Dr. America Billing, "By working with us, doctors save time and money, ensure HIPAA act compliance, and can focus on patient care."
Just as the American Recovery and Reinvestment Act brought health information technology to the forefront in early 2009, Dr. America Billing was being launched with an eye towards modernization. In an industry dominated by "mom and pop" shops, doctors have long faced the challenge of constructing a modern, professional infrastructure and now look to advanced medical billing companies to help. Dr. America Billing not only provides billing service but also creates an electronic method for tracking everyday tasks. Compliance with industry standard coding practices, web-access interactivity, and round-the-clock customer service are at the core of this medical billing company.
"Every private practice that uses our service is one step closer to a completely paperless system," adds LeClair. In addition to cutting costs and clutter, and building greater security and HIPAA act compliance, a primarily paperless system allows doctors to forge a "green" commitment.
The Dr. America Billing website is a testament to the company's goals of simplicity and convenience. Prospective customers can review details of HIPAA act compliance, find out about the company's "five-star guarantee," and sign up for a free, two-month trial.
About Dr. America Billing:
Based in Los Angeles, CA, Dr. America Billing provides a profitable and efficient way for doctors to manage their practice and their relationships with patients and employees. Handling billing, claims reconciliation, auditing, and staffing, Dr. America Billing makes doctors' offices more effective and helps them prepare for coming changes to the healthcare industry.
###