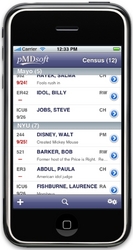 I love the user interface - it is very intuitive and entering charges is a breeze!
Long Island City, NY (PRWEB) December 11, 2008
pMDsoft, Inc. today released the iPhone version of its acclaimed mobile charge capture and rounding software. The iPhone's elegant user interface makes it easy for physicians to track their patients, write sign-off notes while rounding, and enter billing information quickly.
pMDsoft's application is the first native iPhone charge capture software on the market, so it can be used even in lead-lined rooms and remote areas with no signal. All changes are automatically synchronized in the background, ensuring a steady flow of information between providers. pMDsoft's system works ceaselessly behind the scenes to make this communication seamless and to integrate your mobile information with your practice's other software.
Bringing the iPhone's Legendary Usability to Charge Capture
Doctors love the iPhone, which has achieved incredible traction in the smartphone market because of its unprecedented customer satisfaction levels. In its customers' demand for this platform, pMDsoft saw a chance to bring its user-friendly charge capture software to even greater heights of usability. Early adopters such as Dr. Michael Mumma of Florida Cardiac Consultants appreciate that "pMDsoft integrates seamlessly with the iPhone - it's beautifully designed to take advantage of this device." Being first to market is just icing on the cake.
It's part of pMDsoft's culture to invest fully in each new platform - that's why the company created a native application that's specifically optimized to run on the iPhone whether or not it has a data signal. Because it's not just a Web site, the iPhone version of pMDsoft responds quickly; and it looks and feels like other iPhone applications.
This streamlined simplicity allowed early converts to the iPhone to manage their census, enter new patients, and submit charges before we even had a chance to train them. Dr. Madhu Kollipara of Texas Pulmonary & Critical Care Consultants exclaimed, "I love the user interface - it is very intuitive and entering charges is a breeze!"
Your Patients, in Realtime, the Way You Want to See Them
pMDsoft uploads your charges and pulls down patient updates steadily in the background, giving you the latest information while you're on the go. This addresses a need that nearly all rounding physicians have encountered, and for those - such as Dr. Kollipara - who understand the importance of rapid inter-physician communication, it's nearly an obsession: "Having a mobile patient list with updates in real time has been our holy grail and we have finally found it!"
Because your pMDsoft census is shared with the other physicians in your group who round at a particular hospital, it's a snap to maintain from one day to the next. Your office staff can help out by entering consults, as well! Best of all, the patients are organized in a way that works for you, which simplifies your rounding and reduces or removes your reliance on paper.
Dr. Valeriy Kraydman of Huntington Hospital Hospitalists in New York has found pMDsoft invaluable as a rounding tool: "pMDsoft for the iPhone is intuitive, very easy. It works well and it just makes sense. I like how it sorts my patients the way I round, so I don't have to carry paper anymore." Your iPhone could be the only patient list you need.
Charge Capture That's Everywhere You Are
It's misleading to call any software mobile if it takes ages to reload each screen, or if it only works in some areas. That's why pMDsoft went the extra mile to build a native iPhone application instead of a Web site. Unlike a Web site, pMDsoft is fully functional everywhere, even if you're offline - so you can get your billing done even in hospital elevators or remote nursing homes. Dr. James Landis of Florida Cardiac Consultants raved about this freedom: "pMDsoft for the iPhone is awesome. Spectacular. This thing is the best! It's unbelievable - I could enter charges in the cath lab, which is like a lead-lined catacomb!"
What happens when you leave the lead-lined catacomb? Once you re-establish connectivity, pMDsoft picks up where it left off, quietly pushing information to and from the device. This gets the newest information to you and your partners as quickly as possible. Dr. Mumma reports that "we've had no problems with pMDsoft for the iPhone. I think it's great! The push technology in particular plays a huge role in our business and greatly assists us in sharing information."
The fully-functional offline mode even allows pMDsoft to be used on devices that have no cell phone subscription at all, such as the iPod Touch. Large, cost-conscious groups may favor this approach because they aren't tied to a phone or data plan - instead, their doctors can use pMDsoft anywhere, and upload their work wherever they find a wireless Internet connection.
This is well and good; but perhaps you don't want a charge capture system that stands alone. Fortunately, pMDsoft's world-class HL7 engine allows it to interface patients, charges, and appointments with other software, such as EMRs, practice management software, billing systems, or a hospital's census. Total integration allows pMDsoft to act as a mobile front-end to these systems, and gives you the most bang for your existing software infrastructure.
About pMDsoft
Headquartered in New York City, pMDsoft develops wireless applications that help physicians streamline and automate their entire practice from point-of-care through reimbursement. The company was started in 1999 to address physicians' need for an effective, mobile alternative to their paper-based method for recording patient encounters. pMDsoft developed the powerful, flexible, reliable and easy-to-use mobile charge capture solution physicians were seeking. By providing real-time access to patient information anywhere, at any time via handheld devices or desktop computers, pMDsoft's medical billing program enables physicians to automate charge capture; view hospital census and office schedules; create a centralized patient information resource for the practice; and more. Through it all, we protect your patient data by adhering to the highest standards for performance, security and reliability.
Today, pMDsoft's customers include individual physicians, physician practice groups, managed care organizations, hospitals, and billing companies located across the country. We attribute our success to our unwavering commitment to developing the best solution on the market and to our superior 24/7 customer support.
###