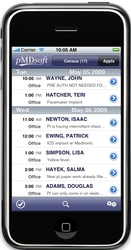 We were shocked at how rapidly pMDsoft implemented a billing interface with Misys Tiger. It was live one week after the project began! As a result, pMDsoft has improved our revenue significantly without adding back-office overhead.
Long Island City, NY (PRWEB) September 9, 2009
pMDsoft, Inc. today announced the completion of over a dozen more HL7 interfaces with some of the most recognized and popular software systems in the medical industry. pMDsoft's industry-leading interface engine has allowed it to integrate seamlessly with its customers' existing software infrastructure, eliminating data entry and increasing the accuracy of their claims. The variety of different interfaces available has taken pMDsoft beyond the limits of charge capture, allowing it to act as an elegant EMR front-end; a mobile practice management system; or a gateway to the local hospital. Because of its all-inclusive pricing policy, pMDsoft has never charged to create an interface.
Charge Interfaces Eliminate Data Entry for Billers
By adopting a charge capture solution such as pMDsoft, in-house and third-party billing organizations typically see an immediate reduction in the amount of time that their staff have to spend obtaining charges and looking up diagnosis and procedure codes. These personnel can instead focus on increasing revenue by coding complicated procedures or investigating rejected claims instead of writing them off. Many organizations take these efficiency gains one step farther and achieve paperless billing by putting an electronic charge interface into place, sending the charges directly into their billing system and avoiding manual re-entry. This is only possible if the charge capture solution is willing and able to communicate with the billing solution.
Through its all-inclusive pricing policy and through a series of more than a dozen major interface projects, pMDsoft has pushed the envelope to make sure that the answers to "willing" and "able" are yes. That means developing multiple different ways of transferring information to accommodate partners as diverse as GE Centricity, Cerner, Athena, doc-tor.com, PBSI, Misys Tiger, ADS, MedEvolve, Medtopia, Versys, Allscripts A4, and NextGen; as well as the proprietary systems of third-party billing companies such as PracticePlus and MDeverywhere.
The experience gained from these projects has allowed pMDsoft to improve its technology, becoming the industry leader for interfaces. The result is a faster turnaround and a better experience for its customers, as JoAnne Wilson, billing manager of The Kidney and Hypertension Center in Ohio, attests: "We were shocked at how rapidly pMDsoft implemented a billing interface with Misys Tiger. It was live one week after the project began! As a result, pMDsoft has improved our revenue significantly without adding back-office overhead."
Charge interfaces allow customers the financial, time-saving, and compliance benefits of charge capture; with the flexibility to keep their existing billing software. pMDsoft has a proven record of providing them more rapidly than its competitors - and at no cost.
Appointment Interfaces Let You Take Your Schedule With You
pMDsoft's customers also have the option to view appointment schedules on an iPhone or BlackBerry, even if they're using a different practice management system. That way they can look at their office schedule while they're on the go; and when they see a patient in the office, they can access that patient's clinical information from the hospital.
pMDsoft recently added appointment interfaces with Greenway, Athena, and GE Centricity. Its customers who use those systems are excited to access their calendars quickly on the go, without having to leave behind their existing practice management system.
Hospital Integration Eliminates Face Sheets and Demographic Entry for Doctors
Eliminating data entry is a major goal of intelligent software, and doctors' time is particularly precious. Therefore, integrating with hospitals is a priority for pMDsoft. The entire community of providers who work at the hospital can benefit from having patient demographics sent to their devices in realtime. Furthermore, their billers save time by having insurance information available, so they don't need to pull face sheets before they can start their work. This further tightens the reimbursement cycle by removing manual steps.
Of course, not every hospital is willing or able to send patient information to pMDsoft. But pMDsoft is always willing and able, and from recently-completed projects at Huntington Hospital in New York and El Centro Regional Medical Center in California, the company has become expert at removing potential barriers to these types of interfaces. Carole Jungkurth, vice president of Practice Plus Solutions, Inc. in California, has found that "pMDsoft has been very responsive to our needs and the needs of our client. They quickly integrated with our billing software and also with the facility software that is a crucial part of our client's practice. All of the adjustments, changes and additions were provided at no additional charge to our client, which is a rarity in our industry."
pMDsoft is an unusual company, committed to working tirelessly for its customers and growing its tool set to deliver the results they want. With new interface projects starting up at other forward-thinking facilities such as The Christ Hospital in Ohio and New York Hospital Queens, pMDsoft continues to follow through on its intention to improve connectivity and communication at medical communities across the country.
About pMDsoft
Headquartered in New York City, pMDsoft develops wireless applications that help physicians streamline and automate their entire practice from point-of-care through reimbursement. The company was started in 1999 to address physicians' need for an effective, mobile alternative to their paper-based method for recording patient encounters. pMDsoft developed the powerful, flexible, reliable and easy-to-use mobile charge capture solution physicians were seeking. By providing real-time access to patient information anywhere, at any time via handheld devices or desktop computers, pMDsoft's medical billing program enables physicians to automate charge capture; view hospital census and office schedules; create a centralized patient information resource for the practice; and more. Through it all, we protect your patient data by adhering to the highest standards for performance, security and reliability.
Today, pMDsoft's customers include individual physicians, physician practice groups, managed care organizations, hospitals, and billing companies located across the country. We attribute our success to our unwavering commitment to developing the best solution on the market and to our superior 24/7 customer support.
###