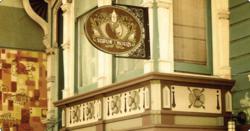 The Vapor Room Cooperative is excited to offer its clients such an advanced testing machine
San Francisco, CA (PRWEB) February 15, 2012
The Vapor Room Cooperative, a San Francisco medical cannabis dispensary, now features the QuantaCann System, an innovative new approach to cannabis analysis, from Steep Hill Lab. The QuantaCann is a new product testing machine that delivers critical information through scientific analysis and ground-breaking software for cultivators, vendors and dispensary operators.
Product testing is rapidly becoming a demand by educated patients seeking to understand the strength of a particular product to find the best strains to alleviate their particular medical condition.
One major benefit for medical cannabis providers and patients is being able to instantly identify strains rich in cannabidiol (CBD). CBD is a compound in cannabis that has many beneficial medical cannabis effects, an appealing treatment option for patients seeking anti-inflammation, anti-pain, anti-anxiety or anti-spasm relief. Strains with high CBD content are also preferred by many medical cannabis users because it does not promote the sometimes disconcerting euphoria often associated with marijuana.
After working with a team of national experts in the field--chemists, engineers and programmers for 18 months--Steep Hill Lab developed QuantaCann. QuantaCann combines Near-Infrared Reflective (NIR) spectroscopy and thousands of calibration samples from Steep Hill's vast database to deliver test results in seconds and directly to the provider. The system empowers clients to carry out the analysis themselves, with results analyzed instantly.
Due to QuantaCann, precise cannabis potency analysis is now available within seconds for patients. The QuantaCann software can also generate custom compliance reports that illustrate that regulating the industry and providing oversight is possible.
"The Vapor Room Cooperative is excited to offer its clients such an advanced testing machine," Martin Olive of the Vapor Room said. "We are committed to making positive contributions to the therapeutic cannabis community."
For more information or the new equipment or any of The Vapor Room Cooperative's products or services, call 415-626-2100 or visit the Vapor Room Cooperative's new website at http://www.vaporroom.com. The Vapor Room Cooperative is located at 607A Haight St. in San Francisco.
About The Vapor Room Cooperative
The Vapor Room Cooperative operates as a not-for-profit based cooperative and directs proceeds toward operations, member services and charitable contributions. It is a Therapeutic Cannabis Cooperative committed to serving member-patient needs with the highest level of compassion and professionalism.
###