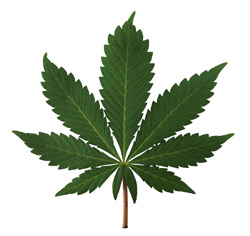 Cannabidiol improved locomotor functional recovery and reduced injury extent, suggesting that it could be useful in the treatment of spinal cord lesions
San Jose, CA (PRWEB) November 22, 2011
A recent medical cannabis study in Brazil found the administration of Cannabidiol (CBD), a non-psychoactive chemical compound found in cannabis, to be effective in improving mobility in lab rats with spinal cord injuries. 420 Cannabis Evaluations Clinic, a San Jose medical cannabis doctor's office, says this is just the latest in a series of studies demonstrating CBD's health-improving properties.
Researchers at the University of Sao Paolo in Brazil administered cryogenic lesions to the spinal cord of several groups of rats, comparing the effectiveness of CBD vs. a placebo treatment when administered immediately prior to, 3 hours after, and daily for the 6 days following the surgery. Preclinical data published in the journal Neurotoxicity Research found a higher locomotor score in the lab rats treated with CBD.
"Cannabidiol improved locomotor functional recovery and reduced injury extent, suggesting that it could be useful in the treatment of spinal cord lesions," according to the abstract.
The study is just the latest in a series of findings demonstrating the healing potential of CBD. According to the National Organization for the Reform of Marijuana Laws (NORML), "Previous studies of CBD have documented the cannabinoid to possess a variety of therapeutic abilities, including anti-inflammatory, anti-diabetic, anti-epileptic, anti-cancer, and bone-stimulating properties."
CBD has many health benefits, but does not cause the psychoactive effects associated with the more famous cannabinoid Tetrahydrocannabinol (THC). For those who would like to experience the benefits of medical marijuana without the "high," many local medical cannabis dispensaries carry strains with high-CBD and low-THC content.
Those who feel they may benefit from the healing properties of medical marijuana without the psychoactive effects are encouraged to discuss their preferences with the San Jose medical marijuana doctor during the initial consultation session.
Under current California law, people suffering a wide range of illnesses can get a recommendation for medical cannabis from a medical marijuana physician by undergoing a medical marijuana evaluation. Patients can then grow their own medicine, or obtain it from licensed cannabis clubs.
About 420 Cannabis Evaluations Clinic:
420 Cannabis Evaluations Clinic is a San Jose marijuana evaluations clinic. They are dedicated to assisting individuals in need of alternative medicines for their chronic ailments, and have physicians on hand to evaluate the needs of their patients and to determine whether their patients are eligible for a medical marijuana card.
420 Cannabis Evaluations Clinic is dedicated to providing deserving individuals with access to medical marijuana. After being evaluated by their marijuana physician and receiving a marijuana recommendation, a medical marijuana card will provide patients with safe, legal access to medical marijuana. Medical marijuana has been safely prescribed to patients suffering from a variety of ailments, alleviating the pain associated with their illness and providing a better quality of life.
To consult with a San Jose medical marijuana doctor and obtain a medical marijuana card, make an appointment with 420 Cannabis Evaluations Clinic at (408) 471-6685. The San Jose medical marijuana doctor's office is located at 345 East Santa Clara Street, Suite 108, San Jose, CA 95112.
###