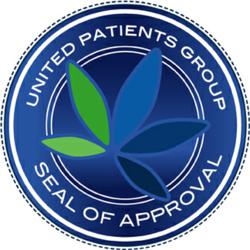 To receive our Seal of Approval, we look for lab tested, convenient, high quality and patient friendly products, while companies must meet standards based on a high level of customer service
San Francisco, CA (PRWEB) June 29, 2013
United Patients Group, the best online resource for everything medical marijuana patients need to know, introduces its Seal of Approval for products and companies that meet specific standards of quality, reliability and customer service. United Patients Group will continue to review products, companies and organizations giving patients the knowledge and guidance they need to make informed decisions about the medical cannabis industry.
"To receive our Seal of Approval, United Patients Group looks for lab tested, convenient, affordable, high quality and patient friendly products, while companies must meet standards based on a high level of customer service," said John Malanca, founder and owner of UnitedPatientsGroup.com. "It can be a challenge for patients to know who to trust in this industry. Our goal is to guide patients away from unreliable sources and products, toward those that are actually looking out for their best interests."
United Patients Group will continue to process applications as we acknowledge that the medical cannabis industry and the patient's needs are ever changing.
The Seal of Approval was spurred by the volume of questions United Patients Group receives daily from patients about what products to buy, what products are safe and where to go. For patients seeking answers, UPG has provided its first round of trustworthy entries:
Hemp Hemp Hooray
An Australian based company, specializing in pure hemp seed oil skincare line, packed with organic ingredients. This product line receives the UPG Seal of Approval for their high quality, safe and lab tested skincare line. The company is also reliable, patient friendly, and has top-notch communication with a contact number easily available.
Magic Flight Vaporizers
United Patients Group awards Magic Flight Vaporizers with the Seal of Approval due to its discreet and portable vaporizers, that are also high quality and affordable. The company is reliable, patient friendly, provides a contact number and answers phone calls, so patients receive great customer service with every interaction.
Aunt Zelda's Oils
Aunt Zelda's Oils meet UPG's standards for quality and testing. Aunt Zelda's is also a company that is dedicated to giving hope back to patients and creating quality, customized products, service and cannabis medicinal solutions. It meets the standards for reliability, communication, customer service and patient friendliness.
Cash Hyde Foundation
The Cash Hyde Foundation, with a mission to fight pediatric cancer and provide support for young patients and their families, is an easily approved company that is reliable and patient friendly, and provides great communication by answering phone calls and offering timely guidance and information to families in need.
VaporNation
According to UPG standards, the VaporNation company and the products it provides, is reliable, customer focused and patient friendly, making it a pleasure to work with, says Malanca. VaporNation not only provides the lowest prices guaranteed as an exclusive distributor for most brand name vaporizers, but they also provide 24/7 Live Chat assistance so patients always have access to a "Vapor Expert."
3D Medical Marijuana Center (Denver's Discreet Dispensary)
3D is a Denver based medical marijuana dispensary and wellness center currently specializing in all aspects of medical marijuana consumables, from production to distribution. 3D makes the list with its quality, lab tested products that don't break the bank, reliable and continuous patient friendly customer support.
Halent Laboratories
Halent Laboratories is a medical marijuana testing laboratory where everything that comes through its doors is meticulously tested for quality. As a company, Halent is reliable, patient friendly, has great communication, a contact number, and answers phone calls, which is why UPG gives this lab its Seal of Approval.
SPARC SF
SPARC is a nonprofit collective based in San Francisco that provides lab-tested medicinal cannabis products, education for its patients, and advocacy for change. SPARC makes the list because of its testing standards and patient friendly services and knowledgeable employees.
The United Patients Group Seal of Approval is given to products and businesses that benefit the lives of patients. If you are an organization or a company that would like to be considered for a United Patients Group Seal of Approval, contact UPG here.
Stay updated for new additions to the list. Visit UnitedPatientsGroup.com to sign up for their monthly Newsletter and connect with United Patients Group on Facebook at facebook.com/UnitedPatientsGroup or Twitter at @UPatientsGroup.
For more information about UnitedPatientsGroup.com, call (415) 524-8099 or visit UnitedPatientsGroup.com.
The best way to stay informed about developments is to "like" United Patients Group on Facebook and "follow" Untied Patients Group on Twitter.
About UnitedPatientsGroup.com
UnitedPatientsGroup.com is a discreet, safe, and professional online medical cannabis information resource for prospective and current patients, caregivers, and medicinal cannabis industry professionals.
While most online medical marijuana sites cater to patients already familiar with medical marijuana, the UnitedPatientsGroup.com website is a comprehensive and easy-to-use information source for people of all ages and experience levels, from novice medical cannabis users to experienced industry professionals. The site's News, Resource, and Blog pages introduce new patients to the ins and outs of medical marijuana healthcare, while helping experienced providers stay abreast of the latest developments in THC and CBD therapies.
A complimentary Five Star-rated United Patients Group medical marijuana app is available on the iTunes app store for iPhone 3GS, iPhone 4, iPhone 4S, iPhone 5, iPod touch (3rd generation), iPod touch (4th generation) and any iPad.