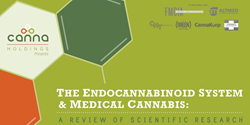 I was encouraged by the number of physicians in attendance, there are so many Florida doctors that are hungry for real information and objective data on how cannabis can help their patients
West Palm Beach, FL (PRWEB) October 04, 2016
On Saturday September 24th, Canna Holdings brought together an esteemed group of physicians and medical practitioners for the first ever peer-to-peer medical cannabis symposium in the state of Florida. This sold-out inaugural event presented national leaders in their fields who offered insights and research on the endocannabinoid system and medical cannabis.
"It was an amazing turnout for this symposium, which proved there is a tremendous need for physician education on the endocannabinoid system and medical cannabis," said Gregg H. Weiss, founder of Canna Holdings and symposium organizer. "Armed with knowledge, physicians can now report back to their patients on the potential benefits and risks associated with medical cannabis treatment, it's therapeutic and preventative effects." 
The panel included: PTSD champion researcher Sue Sisley, MD, movement disorder specialist Juan Sanchez-Ramos, MD, PhD, endocannabinoid researcher Gregory Gerdeman, PhD, botanical medicine expert Jeffrey S. Block, MD, and moderator Anne Morgan, MD. Together they shared their decades of expertise on the topic and discussed existing Florida law, barriers to cannabis research, the biology of the endocannabinoid system and the requirements for recommending medical marijuana in Florida.
Dr. Sue Sisley remarked: "We had the real thought leaders here in the cannabis movement presenting legitimate data on how cannabis works as a medicine. I was encouraged by the number of physicians in attendance, there are so many Florida doctors that are hungry for real information and objective data on how cannabis can help their patients. I was thrilled to see this kind of turn out and enthusiasm from the physician community here in Florida."
Dr. Joy Graham, a practicing Anesthesiologist in Palm Beach Gardens and attendee said, "I really liked hearing about the biology, the practical part in terms of dosing. We should have more information about medical cannabis and learn about it in medical school. The endocannabinoid system is a huge receptor system that's clearly been untapped in terms of research and there's a lot to do.
"Our goal is to bring the latest scientific research and products to patients and physicians. We were impressed by the number of physician attendees who came out to learn about medical cannabis." said Robert Wallace, CEO of CHT Medical, one of the six licensed dispensing organizations in Florida.