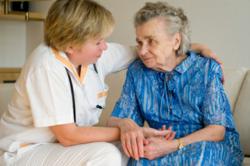 Hospital staff will have an instant 'snapshot' of you is one less thing for you or your family to worry about
(PRWEB) November 07, 2012
The Healthcare.co.uk Hospital Passport is designed to help hospital staff get to know a new patient quickly by providing key information about him or her. As well as listing known medical conditions, medications and allergies, it also provides more personal details such as the name someone likes to be known by, food likes and dislikes, favourite activities and a list of family and friends.
'Going into hospital is always a stressful time, whether it is in an emergency or planned,' said Christine Michael, editor of Healthcare.co.uk. 'The Hospital Passport can be downloaded, printed off and completed at leisure, and kept handy until it's needed. Knowing that hospital staff will have an instant 'snapshot' of you is one less thing for you or your family to worry about.'
The Hospital Passport is available free to visitors to Healthcare.co.uk, an online care resource launched in May. The new website is backed by Click Care Solutions, a Yorkshire-based company with more than 25 years' experience in the provision of products and services in the care sector.
'Healthcare.co.uk is about helping families to meet the challenge of providing care,' said Simon Holt, managing director of Click Care Solutions. 'Whatever people's age or situation, we'll help them to access the care, services and support they need to enjoy life to the full.'
Notes and contacts
The Healthcare.co.uk Hospital Passport is available to download free of charge as a pdf from http://www.healthcare.co.uk It is not intended as a medical document or to be used instead of any similar document that hospitals themselves may provide, but as a source of general information.
For further information about the Hospital Passport or healthcare.co.uk contact:
Follow Healthcare.co.uk on Twitter: @ed_health
Or find us on Facebook: http://tinyurl.com/bvd2xm2