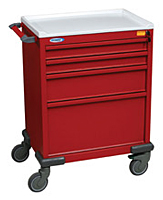 Medical Carts are now available at A Plus Warehouse
Boston,MA (PRWEB) May 16, 2012
Medical carts are now available at A Plus Warehouse. Customers may wonder what a materials handling equipment dealer like A Plus Warehouse is doing selling medical carts. In the lines of all things being related , Lakeside makes a line of stainless steel carts A Plus Warehouse has sold for many years. This product is used in food service as well as in hospitals. It happens that Lakeside also has a hospital equipment line , that seems to be interesting to customers on a national basis. Since A Plus warehouse understands carts in general , it was not a giant reach to understand Lakeside medical carts well enough to add them to the ever growing list of items available at A Plus Warehouse.
While some dealers focus on emergency carts, A Plus Warehouse offers all three kinds of medical carts. A Plus Warehouse offers Emergency Carts, Anesthesia Carts, and even Isolation Carts. Hospitals have specific needs that Lakeside carts certainly fill. Mobile tool boxes would also work out , but hospitals don't want to look like car shops! Medical Carts are not limited to hospitals. Any customer has equal access to the entire A Plus Warehouse product offering. Concierge Doctors as well as upscale dentists and private practitioners have an interest in medical carts. Nursing homes use these items as well.
A Plus Warehouse has been in business since 1996 providing quality products and services to customers nationwide and in Canada. The medical carts line is a way of broadening the product line for customers. The broader the line , the more possibility A Plus Warehouse has to bring great service to customers.
Customers ordering medical carts typically have other requirements A Plus Warehouse helps with. All hospitals have kitchens , and these operations need wash down shelving and carts. A Plus Warehouse is a stainless steel specialist offering not only conveyors and cabinets from stainless steel, but also work benches and stainless steel lockers. A Plus Warehouse can even customize stainless steel cabinets and carts. Customers rely on A Plus Warehouse for quality products and knowledgeable sales staff. From 730 am to 6pm eastern time, an A Plus Warehouse sales person is ready and able to help with any question or issue.
A few words on A Plus Warehouse: A Plus Warehouse is now the medical carts source. Call A Plus Warehouse at 800-209-8798 with any question or to get a quotation.