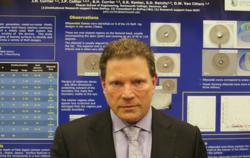 We want to make sure that Terri Sagalow is compensated for the losses she has suffered as a result of this life-changing event.
Teaneck, NJ (PRWEB) March 28, 2012
Defective product/medical device lawyer Samuel L. Davis today applauded Consumer Reports magazine and CBS News for bringing wider attention to what he called an "ongoing crisis" that has been generated by allegedly defective metal-on-metal hip replacements and other implants which 50 million Americans now have in their bodies.
In a March 28 segment, CBS This Morning focused on a newly released Consumer Reports investigation on medical implants that have been allowed onto the market without prior human testing for safety and effectiveness.
The segment featured Terri Sagalow, a New York woman suffering from severe arthritis who received DePuy ASR XL metal-on-metal hip replacement implants in both her left and right hips between 2007 and 2009. DePuy, the orthopedic division of Johnson & Johnson, recalled both hips, Sagalow claims. In August 2010, the medical device manufacturer issued a worldwide recall of 93,000 of the devices due to their high failure rate, according to Consumer Reports.
Davis, founding partner of the New Jersey personal injury firm of Davis, Saperstein & Salomon, P.C., and the founder and chair of The American Association of Justice's Orthopedic Implant Litigation Group, is currently representing Sagalow in a lawsuit against DePuy and Johnson & Johnson that has been filed in the Superior Court of New Jersey, Bergen County. (In re DePuy ASR Hip Implants Litigation, Case Code No. 293).
"What's infuriating to Terri and so many hip implant patients is that, we believe, DePuy had been put on notice that the failure rates for these medical devices were going through the roof, and that patients were facing the risk of what's called 'Silent Metal Disease' due to high levels of toxic cobalt and chromium metal ions seeping into the bloodstream," Davis said in a released statement.
"I applaud CBS and Consumer Reports for bringing more attention to this crisis," he said. "People need to understand the tragedy that's involved in this case. For patients like Terri, the medical issues caused by these defective medical devices were immediate and catastrophic."
"When a metal-on-metal hip implant fails inside of you, you can face severe pain and the need for multiple revision surgeries. It can lead to a lifetime of misery."
Davis pointed to an investigative report recently published in BMJ, formerly the British Medical Journal. The report says that thousands of metal-on-metal hip implants made by DePuy Orthopaedics have leaked high levels of toxic cobalt and chromium ions. The toxic metals can destroy patients' bones and muscle tissue and potentially leave them with long-term disability, according to BMJ.
The BMJ has referred to the marketing of the DePuy ASR XL hip implants as "one of the biggest disasters in orthopaedic history," according to Consumer Reports.
In the complaint filed on Sagalow's behalf, she alleges that she suffered personal and economic injuries as the result of "severely elevated blood ion levels of cobalt and chromium" as well as "tissue poisoning and toxicity."
Additionally, in the complaint, Sagalow alleges that she has suffered severe emotional distress from notice of DePuy's recall. She also claims has undergone left hip revision surgery which dislocated shortly after the replacement surgery.
A recommendation to undergo immediate revision surgery for her other hip implant has been postponed by the need for rehabilitation and healing of her first revision surgery, the complaint states.
"I'm finding out now that these things they put in me weren't even tested. And they're in my body. It's really quite upsetting," Sagalow, breaking into tears, told CBS News.
CBS also interviewed Dr. Steven Nissen of the Cleveland Clinic. According to Nissen, more than 2,800 people died in 2006 due to faulty medical devices.
According to Consumer Reports, the DePuy ASR XL metal-on-metal hip replacement implants were approved for the market by the U.S. Food and Drug Administration (FDA) under a rule that allows approval for devices based on their "substantial equivalence" to other devices already on the market.
Nancy Metcalf, who wrote the Consumer Reports article, told CBS that the rule is "a loophole you could drive a truck through." According to Consumer Reports, 17 percent of Americans have a medical implant of some kind.
"This is only the tip of the iceberg," Davis said. "The cost of medical device failures including testing, we believe, could be tens of billions per year.
"We want to make sure that Terri Sagalow is compensated for the losses she has suffered as a result of this life-changing event," he added. "And we want the era of manufacturers putting untested medical products on the market to come to an end."
According to the BMJ, and The Lancet medical journal, all metal-on-metal hip implant recipients need to have their metal levels checked annually through blood tests.
"If you don't know what you have inside you, call your doctor to find out," Davis urged. "It might be a life-saving call."
Hip implant patients should contact an attorney experienced in medical products liability cases to learn about their legal right to compensation for damage from the device, Davis said. They should contact an attorney quickly, he added, because the statute of limitations is relatively short and time may already be running out.
About Davis, Saperstein & Salomon, P.C.
The New Jersey personal injury attorneys and dedicated staff of Davis, Saperstein & Salomon, P.C., provide compassionate and skilled legal help to those injured by the negligence of others.
Since 1981, the firm has secured more than $400 million in verdicts and settlements for clients throughout American including North Jersey and New York, including the communities of Newark, Jersey City, Paterson, Elizabeth, Edison, Toms River, Trenton, Clifton, Camden, Brick Township, Woodbridge Township, Bergen Co., Middlesex Co., Somerset Co., Warren Co., Sussex Co., Monmouth Co., Mercer Co., Ocean Co., Hudson Co., Passaic Co., Essex Co., Union Co., Morris Co., Teaneck, Fort Lee, Paramus, Hackensack, Hoboken, Secaucus, Englewood, Mahwah, Bergenfield, Union City, North Bergen, Ridgewood, Bayonne, Ridgefield, Belleville, Alpine, New Milford and Atlantic City.
The firm's practice areas include mass tort, tobacco class action, defective medical devices, dangerous drugs and medication, personal injury, auto accidents, drunk-driving accidents, motor vehicle accidents, medical malpractice, premises liability, product liability, slip and fall, truck accidents and workers' compensation.
For more information about Davis, Saperstein & Salomon, P.C., call (800) LAW-2000 or use the firm's online contact form.