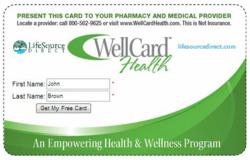 Medical discount programs play into the current market trends where consumers look for ways to discount their out of pocket medical expenditures.
Boise, ID (PRWEB) January 23, 2013
LifeSource Direct, a national online insurance brokerage, announced today the addition of health care services and medical discount programs to their new and improved WellCard Rx drug savings card. Membership is free and card members will continue to save up to 65% on prescription drugs. In addition, with the health care and medical discount services, families of three or more can save up to $1000 and more per year on their health care services.*
LifeSource Direct, a national online insurance brokerage, reiterates its members' savings on RX expenditures under the improved Rx drug discount card service. With the new card from LifeSource Direct, members will also save on the expanded common health services, such as:

24/7 Teledoc services (telephone medicine);
Dental Care;
Vision Care;
Diabetic & Vitamin products;
Hearing Care;
Medical Bill Help;
Lab & Imagining;
WellCard Rewards.
The new LifeSource Direct WellCard can be found at http://lifesourcedirect.com/health-benefits-guide/prescription-savings-card/rx-labratory-imaging-discount-card/ . The discount Rx WellCard service has no fees, can be quickly enrolled in and includes step by step instructions on how to receive the numerous discounts associated with the LifeSource WellCard Rx and other benefits.
A spokesperson from LifeSource Direct stated that "this product is ideal for those who are currently uninsured or underinsured." He added that "the Rx drug discount card with medical discount programs plays into the current market trend where high deductibles and reduced services are driving the consumer to look for other means of discounting on their out of pocket medical expenditures."
The LifeSource Direct WellCard can be found at LifeSources website under labratory imaging discount card. Persons wanting a complimentary well card can add their name to card and print a wallet size card for access.
About LifeSource Direct
LifeSource Direct ( http://lifesourcedirect.com ) was formed to create a dynamic, state of the art, direct sales life insurance company backed by an experienced and professional staff. Incorporating the latest cutting edge technology with one of the best consumer support staffs in the industry assures a simple and easy process for purchasing life insurance. LifeSource Direct works with top rated insurance carriers including Prudential, SBLI, RBC, Banner Life, MetLife, Lincoln, Nacolah, Transamerica, ING and Genworth Financial.
LifeSource Direct now works with thousands of people every year to find them the right term life insurance at the right price. In addition LifeSource Direct offers many ancillary products that can benefit the consumer.
Disclaimer: This is not insurance. It is a program that provides access to discounts on health care and other services with participating providers. Cardholders are responsible for paying the discounted cost at the time of service. WellCard Health has no membership fee. The discount plan organization is AccessOne Consumer Health, Inc., 84 Villa Rd., Greenville, SC 29615.
*Not a guarantee of savings. Savings estimates are based on two doctor office visits, two dental visits, and two prescriptions per family member per year.