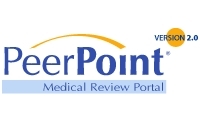 This new release greatly enhances the independent medical review process for healthcare payers
Portland, OR (PRWEB) December 7, 2009
AllMed Healthcare Management, a leading independent review organization (IRO), has released a new version of PeerPoint®, its web-based medical review workflow software platform. This new release greatly enhances the independent medical review process for healthcare payers, by making it faster and easier to send, track, and receive cases online, through AllMed's secure web portal.
PeerPoint Workflow is designed to reduce the cost and time that payer organizations spend managing the medical review process with their IRO. The software provides a streamlined process allowing payer clients to submit, track, and receive peer-reviewed medical cases over the web. PeerPoint 2.0 aims to further increase the speed and usability of this process through the implementation of modern user interface elements such as tabbed navigation and an improved user dashboard.
Current PeerPoint users will be upgraded automatically and are expected to experience a seamless transition to the updated version.
In addition to a brand new user interface, PeerPoint 2.0 was redesigned from the ground up to provide a robust and highly-scalable architecture from which AllMed plans to expand. "We're using a state-of-the-art architecture that will allow us to continue to innovate with new products and services for years to come," said Andrew Rowe, CEO of AllMed Healthcare Management." Over time, you'll see us add features that will increasingly automate the process and improve the efficiency of our healthcare workflows."
Behind the scenes, PeerPoint 2.0 features revamped security protocols, which provide enterprise-class security. Security enhancements cover such areas as access control, segregation of information, audit trails, network protection, data protection, transmission security, and vulnerability management. In conjunction with these upgrades, AllMed has moved PeerPoint hosting to an offsite data center with redundant power and data backup, as well as 24/7 disaster recovery infrastructure.
About AllMed
Founded in 1995, AllMed Healthcare Management is a URAC-accredited independent review organization (IRO), serving leading healthcare payer and provider organizations nationwide. Allmed's independent review services help to improve healthcare utilization, quality, and physician performance, while reducing unnecessary costs.
For payers, AllMed provides independent medical review services that help utilization review, medical management, and claims professionals control healthcare costs while doing what's right for each member, every time.
For hospitals and ASCs, AllMed provides external peer review services that help evaluate practitioner performance, leading to improved healthcare quality and patient safety.
All reviews are conducted by AllMed's panel of over 400 leading peer specialists, who are licensed, board-certified and in active practice.
Contact AllMed at AllMedMD.com or by calling 1-800-400-9916
###