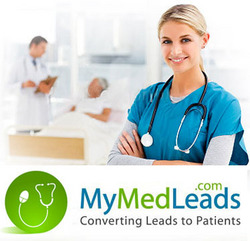 The days of broken promises are over and doctors are holding their marketing sources accountable
Austin, TX (PRWEB) December 7, 2010
As the economy continues to sputter and drag, more plastic surgeons are turning to companies like MyMedLeads.com to help generate more revenue. The antiquated approach of blindly tossing money into marketing just to see what sticks is a thing of the past. While it is evident that doctors are now aware of how essential Internet marketing is to their success, they are also beginning to realize that marketing alone is not enough.
"Getting leads is only half the battle", says Dr. Poulos, a board certified plastic surgeon in the San Francisco area. "Once a prospective patient inquires, there has to be a strategy to manage the lead and to nurture it until they are ready to become a patient. This means that the front desk needs the necessary tools to make this happen".
Enter MyMedLeads.com. This comprehensive lead management tool integrates with websites, industry directory sites and PPC campaigns to track, manage and nurture leads, assisting the staff and office personnel to more effectively manage leads until they become patients. Some of the noteworthy features of MyMedLeads include text message reminders to prevent no-shows, automated and procedure specific email campaigns, key response time measurements of the staff and inclusive ROI reports on all marketing expenditures.
"Doctors are now beginning to use words like ROI tracking and conversion rates in their vocabulary. They understand that throwing five to six thousand dollars per month to Internet marketing by way of directory sites, Pay Per Click and SEO does not guarantee new patients. The days of broken promises are over and doctors are holding their marketing sources accountable" says Enrique Rangel, CEO and founder of MyMedLeads.com.
MyMedLeads recently added both Adwords and call recording and tracking features in order to encompass all of the necessary components needed to truly capture each lead.
MyMedLeads.com is a lead management tool for the medical industry that captures, manages, and converts prospects to patients.
MyMedLeads.com helps manage all inquiries to capture 100% of all inbound leads. It measures staff response time, offers text message reminders to prevent no-shows, provides ROI reporting on all marketing expenditures, syndicates online reviews of your medical practice, and provides automated email campaigns to effectively nurture prospects.
# # #