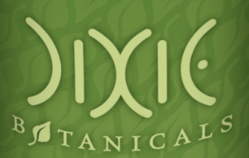 Dixie Botanicals new name and look better reflects the quality ingredients each product contains
San Francisco, CA (PRWEB) January 22, 2013
Hemp oil wellness brand Dixie X is now Dixie Botanicals due to a rebranding effort initiated by its parent company Red Dice Holdings, a portfolio company of United Patients Group partner Medical Marijuana Inc.
"Since the launch of Dixie X last September, the brand has been focused on reaching consumers looking for natural remedies and alternative treatments for pain," said John Malanca, founder and owner of medical marijuana resource UnitedPatientsGroup.com. "We have always supported their brand vision and will continue to help promote the numerous benefits of Dixie Botanicals products."
According to Red Dice Holdings, Dixie X has been well received since its 2012 launch, but the company expects the new name and more natural image will support future product development efforts and appeal to a wider consumer base.
"Dixie Botanicals new name and look better reflects the quality ingredients each product contains," said Tripp Keber, president of Red Dice Holdings. "We look forward to serving both our loyal customers and reaching untapped markets with our new branding."
Dixie Botanicals offers innovative wellness products for health conscious consumers, and will continue to use the same Dixie X formulas created by a team of experts comprised of scientists, clinical herbalists and nutritionists.
Dixie Botanicals products include a variety of beneficial and uniquely effective over-the-counter (OTC) products – including dietary supplements and a topical balm – that integrate hemp oil; rich in naturally occurring cannabidiol (CBD) and other natural ingredients such as lobelia oil, cocoa butter, rosemary, lavender, cedarwood and more.
The Dixie Botanicals Hemp Oil Salvation Balm, Dew Drops Hemp Oil Supplement and Hemp Oil Supplement Capsules are all available for purchase on the Dixie Botanicals website.
Current customers enrolled in the brand's membership program, Compassionate Care Club, will continue to receive their discounted Dixie Botanicals products without interruption.
To learn more about Dixie Botanicals, visit http://www.dixiebotanicals.com. For more information about United Patients Group, call (415) 524-8099 or visit UnitedPatientsGroup.com.
About UnitedPatientsGroup.com
UnitedPatientsGroup.com is a discreet, safe, and professional online medical cannabis information resource for prospective and current patients, caregivers, and medicinal cannabis industry professionals.
While most online medical marijuana sites cater to patients already familiar with medical marijuana, the UnitedPatientsGroup.com website is a comprehensive and easy-to-use information source for people of all ages and experience levels, from novice medical cannabis users to experienced industry professionals. The site's News, Resource, and Blog pages introduce new patients to the ins and outs of medical marijuana healthcare, while helping experienced providers stay abreast of the latest developments in CBD therapies.
A complimentary Five Star-rated UPG medical marijuana app is now available on the iTunes app store for iPhone 3GS, iPhone 4, iPhone 4S, iPhone 5, iPod touch (3rd generation), iPod touch (4th generation) and any iPad.