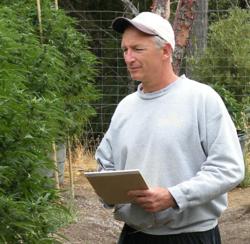 At this point, it's a huge industry that is entirely unregulated, leaving it vulnerable if a safety problem should arise
Cresent City, CA (Vocus/PRWEB) June 10, 2011
California medical marijuana attorney Chris Van Hook is proud to announce Clean Green Certified™, an independent third-party verification program that assures medical cannabis bearing its label is grown without harmful chemicals and fertilizers, and is compliant with strict quality control and legal practice standards from seed to sale to smoke. It is the only California medical marijuana inspection certification program that uses a state- and federal-licensed testing lab for soil samples, and the only certification program that assures compliance with local laws.
Medical marijuana has been legal in California since 1996, but the laws governing its use have nothing to say about safety standards. When medical marijuana growers wanted to get their operations certified organic, they were denied because the certifying body, the USDA, is a federal agency, and it considers marijuana illegal. They turned to California medical cannabis compliance lawyer Chris Van Hook, who used his knowledge of agricultural practices and marijuana law to create the Clean Green Certified™ program.
"At this point, it's a huge industry that is entirely unregulated, leaving it vulnerable if a safety problem should arise" said Van Hook. "It's a testament to the safety of cannabis that we have not had any major problems so far, but the industry is one contamination crisis away from a fiasco." The Clean Green Certified™ program was developed to give growers and dispensaries a trustworthy way to regulate the product, generating greater consumer confidence and improving relations with law enforcement.
Clean Green Certified™ medical marijuana is held to the highest standards, ensuring its safety and compliance with California law. The three-part California medical cannabis certification process for growers includes a confidential legal compliance review; an onsite inspection of the grow area, including input review standards modeled on the USDA Organic Certification requirements; and a thorough agricultural crop inspection, looking for mold and mildew, pest problems, and facilities contamination. It is the only program that sends soil samples from every grower at every inspection to a licensed agricultural lab to test for over 300 pesticides, confirming compliance with the program and further ensuring patient safety.
Collectives that want Clean Green Certified™ status are also inspected for safety and cleanliness. They must assure their legal compliance with medical marijuana standards in California by having demonstrable policies in place for non-diversion of product into the illegal market. They must have a documented "closed loop" arrangement showing that their product is grown by members and distributed to members, and everyone involved has a current doctor's recommendation. Further, they are required to have a method of controlling access to the facility.
The Clean Green Certified™ program holds growers and dispensaries to strict safety and legal requirements. By participating, they are demonstrating their commitment to using legitimate and above board business methods. They are rewarded with increased trust from medical marijuana users and a better relationship with law enforcement.
"I feel much more confident after working with the Chris and the Clean Green program that I am complying with State law. It helps me sleep better at night," said one participant.
For more information about the Clean Green Certified™ program, call Chris Van Hook at (707) 215-4009 or visit http://www.cleangreencert-ca.com.
About Clean Green Certified™
Clean Green Certified™, an independent third-party certification program created by medical cannabis attorney Chris Van Hook, is an agricultural process review and certification program based on the non-use of synthetic chemical fertilizers and sprays, and the building of consumer confidence that their agricultural products are produced in manner that is both healthy and safe for the environment. Their California medical marijuana quality control programs also include Best Practices certification, which allows the limited and responsible use of synthetic chemical fertilizers, and compliance with Mendocino County Code 9.31 (the medical cannabis cultivation regulation ordinance).
Clean Green's expert legal team also provides services that include: medical cannabis expert witness testimony; on-site inspections; medical cannabis compliance for growers and for handlers/processors/dispensaries; formation of grower collectives and nonprofit corporations; commercial leases; product licensing; contracts and real property issues; administrative law; and permit assistance and acquisition.
###