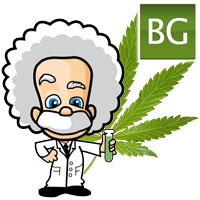 These new facilities will provide increased capacity for laboratory testing, media production, content creation, sales, services and leadership functions across the company.
Los Angeles, California (PRWEB) March 06, 2012
BG Medical Technologies, Inc. (OTC:RIGH) today announces the relocation to new corporate headquarters for accommodating its rapid growth and future expansion plans. These new facilities will provide increased capacity for medical marijuana laboratory testing, developing natural medicine solutions, media production, content creation, sales, and leadership functions across the company.
The newly designed laboratory is configured to work in tandem with BudGenius software upgrades aimed at significantly increasing labor efficiency across a network of integrated hardware. The new laboratory will also support added technologies for increased data collection. Dedicated media suites for educational video production are being established, along with an HD post-production facility for onsite video and audio editing. An expanded sales area has been selected to house regional trainings, and also to support call center growth through 2015.
"This new and creative space greatly increases our capabilities and aligns us with our ongoing growth. We expected this to build upon team synergies while providing our staff the resources to rapidly develop new technologies for medical marijuana and natural medicines," said Angel Stanz, Chief Executive Officer for BG Medical Technologies. "Our team is excited about the growth we are experiencing and this move represents our commitment to building upon the successes our team has accomplished."
Final property selection will be completed within the next 45 days, with several weeks planned for gradual relocation. Completed facilities are expected to be fully operational by end of June.
About BG Medical Technologies
BG Medical Technologies develops ancillary support services for medical cannabis patients and professionals, including its flagship medical marijuana research laboratory and website portal, BudGenius.com. BG Medical Technologies, Inc. currently trades under the symbol OTC:RIGH. Symbol and name change pending. http://www.BgMedTech.com
BG Medical Technologies and its companies do not sell, grow, harvest, cultivate, nor distribute medical cannabis.
The foregoing press announcement contains forward-looking statements that can be identified by such terminology such as "believes," "expects," "potential," "plans," "suggests," "may," "should," "could," "intends," or similar expressions. Such forward-looking statements involve known and unknown risks, uncertainties and other factors that may cause the actual results to be materially different from any future results, performance or achievements expressed or implied by such statements. In particular, management's expectations could be affected by, among other things, uncertainties relating to our success in completing acquisitions, financing our operations, entering into strategic partnerships, engaging management and other matters disclosed by us in our public filings from time to time. Forward-looking statements speak only as to the date they are made. The Company does not undertake to update forward-looking statements to reflect circumstances or events that occur after the date the forward-looking statements are made.
Contact:
Angel Stanz
Chief Executive Officer
pr(at)bgmedtech(dot)com
(855) 723-3283
###