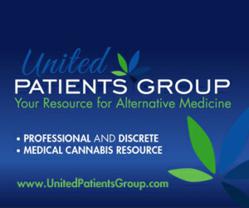 All in all, we have seen significant steps of progress in this industry over the past 12 months
San Francisco, CA (PRWEB) December 08, 2012
The marijuana industry certainly had its ups and downs this year, but pot eventually came out on top. From ridiculous protests to monumental legislations, online medical marijuana resource United Patients Group looks back at the top 12 most memorable marijuana moments of 2012:

January: New Jersey Governor, Republican Chris Christie, receives a standing ovation after he calls on the state to adopt new drug laws during his State of the State address.
February: Peter Lewis, chairman of Progressive Corporation, the parent company of the Progressive Insurance brand, donates over half a million dollars to the Massachusetts pro-legalization organization Committee for Compassionate Medicine. (Massachusetts goes on to eliminate criminal and civil penalties for the use of marijuana by qualifying patients.)
March: Virgin's Sir Richard Branson asks Obama for a joint at a White House state dinner for British Prime Minister David Cameron.
April: In a Rolling Stone article, President Obama clarifies that the federal government has no interest in prosecuting users of marijuana for medical purposes, and Jimmy Kimmel calls him out about the recent raids of dispensaries.
May: Connecticut becomes the 17th state to legalize marijuana for medical purposes.
June: Israeli scientists introduce a strain of pot that lacks THC but is abundant in cannabidiol (CBD), opening up many doors for medical marijuana use.
September: Scientists at California Pacific Medical Center in San Francisco discover that Cannabinol, a compound of marijuana, could potentially stop cancer from spreading. "Now we've found that Cannabidiol works with many kinds of aggressive cancers--brain, prostate--any kind in which these high levels of ID-1 are present," researcher Pierre Desprez told the Huffington Post.
October: The petition to reclassify marijuana from the most restricted Schedule I controlled substances group to Schedule III, IV or V reappeared in court in the case of Americans for Safe Access (ASA) v. Drug Enforcement Administration (DEA) [Case # 11-1265].
November: Colorado and Washington become the first states to ever legalize marijuana for recreational use.
December: New Jersey and Arizona open their first medical marijuana dispensaries.
"All in all, we have seen significant steps of progress in this industry over the past 12 months. It's pretty amazing to look back and see how far we've come," said John Malanca, founder and owner of UnitedPatientsGroup.com. "Everyone's efforts have not gone unnoticed and we encourage all in the cannabis industry to continue to put one foot in front of the other to speak even louder in 2013!"
For a more detailed look inside the marijuana industry this past year, visit http://www.unitedpatientsgroup.com/news.
To learn more about UnitedPatientsGroup.com, please call (415) 524-8099 or visit UnitedPatientsGroup.com. The best way to stay informed about developments is to "like" United Patients Group on Facebook and "follow" Untied Patients Group on Twitter.
About UnitedPatientsGroup.com
UnitedPatientsGroup.com is a discreet, safe, and professional online medical cannabis information resource for prospective and current patients, caregivers, and medicinal cannabis industry professionals.
While most online medical marijuana sites cater to patients already familiar with [medical marijuana, the UnitedPatientsGroup.com website is a comprehensive and easy-to-use information source for people of all ages and experience levels, from novice medical cannabis users to experienced industry professionals. The site's News, Resource, and Blog pages introduce new patients to the ins and outs of medical marijuana healthcare, while helping experienced providers stay abreast of the latest developments in CBD therapies.
A complimentary Five Star-rated UPG medical marijuana app is now available on the iTunes app store for iPhone 3GS, iPhone 4, iPhone 4S, iPhone 5, iPod touch (3rd generation), iPod touch (4th generation) and any iPad.