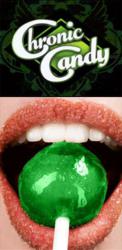 San Diego Pride is one of our favorite events of the year
Corona, CA (Vocus/PRWEB) July 14, 2011
On July 16 and 17, 50,000 people from all over the world will gather together to celebrate the San Diego LGBT Pride Festival, one of the West Coast's biggest Pride events. Festivities include the Pride Parade (the 5th largest in the country), multiple entertainment stages with over 80 performers, more than 300 vendors, great food, and more. Online marijuana entertainment and culture magazine Chronic Candy will be on hand with four flavors of their namesake hemp lollypops. They will also be giving out free samples of the hemp iced tea that's quickly becoming the favorite beverage of the community, Chronic Ice.
"San Diego Pride is one of our favorite events of the year," says founder Tony Van Pelt. "Everyone comes together to just have fun and be themselves; no pressure, no judgments. And that's what Chronic Candy is all about—being true to yourself."
Chronic Ice is a refreshing health tea, made with organic sugar cane, a green and black tea blend, lemon essence, ascorbic acid and, of course, hemp seed extract. The antioxidant-rich, healthy tea contains only 80 calories per serving, and is free of preservatives and high-fructose corn syrup. Representatives will be handing out samples of the all-natural hemp drink, and cans will be available for purchase.
Chronic Candy will also bring the lollypop that made its name. The hemp candy, available in four flavors, is not psychoactive—it contains no THC—but it is delicious. Varieties include the original hemp flavor, OG Kush; grape-flavored Purple Erkle; blueberry-flavored Blue Dream; and tropical-flavored Mango. Chronic Candy will have nickel bags and dime bags available at the booth.
Chronic Candy will be showing some love with free swag at the booth, too. Expo attendees are encouraged to stop by and grab stickers and rolling trays.
This year's theme, Pride Around the World, highlights the festival's commitment to celebrating diversity and creating a safe space all kinds of people. With designated areas for everything from a farmers' market to a leather realm to hiNrg dance tents to beer gardens to a children's garden, there's something for everyone.
The grand marshals of the parade include Daniel Hernandez, Jr., an intern for Representative Gabrielle Giffords who is credited with saving her life when she was shot, and actress Meredith Baxter, best known for her role as Elyse Keaton, the mother on Family Ties. Performers include Salt-N-Pepa, Toby Love, Frenchie Davis, outspoken comedian Margaret Cho, and many more.
The Pride Parade starts at 11 AM on July 16 at University and Normal and travels down University to 6th Avenue to Balboa Drive. The Pride Festival is in Balboa Park from noon to 10 PM on July 16 and 11 AM to 8 PM on July 17. Tickets are available at http://sdpride.org/tickets.htm.
For more information about Chronic Ice hemp tea, visit http://www.ChronicIce.com. For more information about Chronic Candy hemp lollypops, visit http://www.ChronicCandy.com.
About ChronicCandy.com
ChronicCandy.com is at the forefront of online medical marijuana news today. It's the one-stop shop for the latest information about the cultural, medicinal, and political aspects of the rapidly changing medical marijuana industry. Whether it's the newest trends in cannabis culture or developments in medical marijuana or politics and laws pertaining to cannabis use, Chronic Candy has it covered.
###