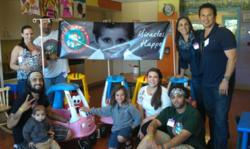 The Doobons team donated 20 Reggae Runners to the Cash Hyde Foundation last week, and we had an amazing day with the Hyde family and friends donating them to children's hospitals from San Francisco to Oakland
San Francisco, CA (PRWEB) June 28, 2012
As an outsider, it's impossible to describe the fight that pediatric cancer patients face every day. When numbers, statistics and medical verbiage submit to words like "believe," "hope," and "miracles," all it takes is a simple gesture to make that fight a little more bearable. A simple gesture, like donating something to make them smile, could mean the difference between suffering and surviving for these children. Medical marijuana resource, Doobons.com, has partnered with the Cash Hyde Foundation to do just that.
It's this very philosophy that led the team behind the medical cannabis online resource Doobons.com to generously donate 20 "Reggae Runners" – 'customized' Little Tikes cars with IV poles, crafted for the freedom of young patients – to the Cash Hyde Foundation and children's hospitals across the San Francisco Bay Area.
"The Doobons team donated 20 Reggae Runners to the Cash Hyde Foundation last week, and we had an amazing day with the Hyde family and friends donating them to children's hospitals from San Francisco to Oakland," said John from Doobons.
"It was incredibly rewarding to see the look on the faces of the nurses and the children, and knowing that we made a difference. These kids are constantly being bombarded with adult situations. With all the medicine, chemotherapy, radiation and other treatments, they don't get the chance to just be a kid. Reggae Runners are symbols for childhood and, most importantly, freedom from everything they're going through."
Reggae Runners are the creation of Mike Hyde, founder of the Cash Hyde Foundation, whose four-year-old son, Cash, has battled malignant brain tumors since before his second birthday. Both Mike and Cash made headlines around the United States when a father's intuition overruled traditional medical practice, leading Mike to treat Cash with cannabis oil while he was in the hospital. Shortly after, Cash showed signs of improvement. He was eating. He was comfortable. He wanted to move.
"We purchased Cashy his own Little Tikes car, mounted an IV pole to it and put stickers all over it," said Mike. "We named it the Reggae Runner and Cashy had many happy times cruising the halls of Primary Children's Hospital in it." Stickers that read "BELIEVE," and "Cancer Fears Me," adorn these Reggae Runners, giving tiny cancer patients the motivation to move past their challenges and to fight cancer with smiles. "I will always remember Mike Hyde's mantra, 'Every smile is a minute that cancer isn't winning,'" says John from Doobons.
With the help of the Cash Hyde Foundation and generous donors like Doobons.com, more children will be able to experience these happy times. Aside from the ongoing fundraising initiatives of both organizations, Doobons.com is looking forward to supporting the Cash Hyde Foundation at their upcoming celebrity softball fundraiser in September.
To find out more about Reggae Runners and Doobons' fundraising efforts for the Cash Hyde Foundation, visit the Doobons blog. More information about the Cash Hyde Foundation can be found at http://www.cashhydefoundation.com.
To help bring more smiles to children with pediatric cancer, donations can be sent to:
The Cash Hyde Foundation
c/o Doobons
336 Bon Air Center #361
Greenbrae, CA 94904
About Doobons.com
Doobons.com is an online medical marijuana resource for prospective and current patients, caregivers and medicinal cannabis industry professionals. The medical cannabis resource site is designed be a comprehensive source of information for everyone from novice medical cannabis users to experienced industry professionals. Doobons.com is discreet, safe and professional.
Doobons.com was designed to be convenient and to appeal to everyone, including those who are new to the world of medical cannabis. While most of today's online medical marijuana directories are designed for patients who already know at least something about using medical marijuana, Doobons.com is a marijuana directory designed to be user friendly for patients of all ages and experience levels.
Doobons.com is more than just another online medical marijuana directory. The site's News, Resource, and Blog pages provide valuable information and advice for patients and caregivers. The information posted helps new patients learn about the ins and outs of the world of medical marijuana, and existing patients stay abreast of developments.
The five-star-rated Doobons marijuana app is now available for free on the iTunes app store for iPhone 3GS, iPhone 4, iPhone 4S, iPod touch (3rd generation), iPod touch (4th generation) and iPad that runs on iOS 4.3 or later.
For more information about Doobons.com, call (415) 524-8099 or go to Doobons.com online.