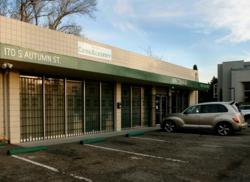 We're concerned with more than the health of our patients. We're dedicated to sustaining a healthy community.
San Jose, CA (Vocus/PRWEB) March 17, 2011
One year ago, MedMar Healing Center had three patients. Today, the medical marijuana dispensary in San Jose celebrates its first anniversary with over 3,000 patients. Douglas Chloupek, a representative from MedMar, attributes the company's rapid increase in patients to the investments it has made in the community over the past year.
"MedMar Healing Center has always been enthusiastic about opportunities to help both our patient members and our local community," said Chloupek. "We're concerned with more than the health of our patients. We're dedicated to sustaining a healthy community."
In February 2011, MedMar partnered with the San Jose Park and Recreational department to host a Guadalupe Creek Clean Up behind Medmar. The team collected nearly 1,000 pounds of trash and debris and restored the native habitat to pristine conditions.
In June, MedMar, in association with Stanford Blood Center, will host a blood drive and benefit concert which is open to the public to help replenish reserves for the crucial mid-summer months when blood banks run low.
MedMar has also assembled a Team in Training in San Jose, which is committed to raising at least $2,500 for cancer research and is currently working with a local shelter to organize a food drive for the homeless in mid-April.
For more information about MedMar's San Jose community projects, or to learn more about any of MedMar Healing Center's products and services, call (408) 426-4400 or visit sjmedmar.com MedMar is located at 170 South Autumn Street in San Jose.
About MedMar Healing Center
MedMar Healing Center is a grassroots, community-based San Jose medical cannabis club that offers support and alternative health resources to people facing health challenges. Their primary goal is to advocate a proactive approach to health management by providing a local, affordable, and safe environment to dispense medical cannabis and other alternative health services.
MedMar provides residents of San Jose and Silicon Valley with medical marijuana in many forms, including flowers, hash, edibles, and concentrates. MedMar Healing Center tests each of their strains of medicine for a Cannabinoid profile, which helps their knowledgeable staff recommend the best medicine for the diverse ailments of each client.
###