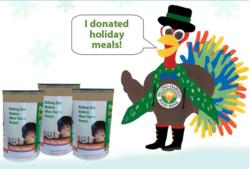 It is MedMar's hope that we can help make this holiday season amazing for every family, even in these hard economic times.
San Jose, CA (PRWEB) December 19, 2011
'Tis the season of giving, and San Jose medical marijuana dispensary MedMar Healing Center is giving back to the community with a food drive to benefit Second Harvest Food Bank. From October 1st through January 20th, MedMar is joining together with other San Jose cannabis collectives to collect money and cans of food to help Second Harvest provide nutritious meals to local families in need.
"This holiday season, many families are having a hard time making ends meet. It is MedMar's hope that we can help make this holiday season amazing for every family, even in these hard economic times," says Douglas Chloupek, founder of MedMar.
Second Harvest Food Bank serves over 240,000 people each month—10% of the people in Santa Clara and San Mateo counties—and distributes over 45 million pounds of food per year, mainly to local seniors and families with dependant children. Since the recession hit in 2007, the number of people served by Second Harvest has skyrocketed 48%, but donations have flatlined over the last two years.
The holiday season, when Second Harvest gets the majority of its donations, will be critical to ensuring the food bank can help hungry members of the community get access to nutritious meals. The food bank's goal is to raise $11.3 million and collect 1.6 million pounds of food.
MedMar members who bring in nonperishable food items will get a $1 credit per can donated ($10 daily limit). The most-needed items are meals in a can (stew, chili, soup), tuna and canned meat, peanut butter, canned foods with pop-top lids, low-sugar cereals, 100% fruit juices in single-serving boxes, canned fruit packed in juice, and canned vegetables. MedMar is also accepting cash donations that will be passed along to Second Harvest.
For more information about the holiday food drive, or to learn more about any of MedMar Healing Center's products and services, call (408) 426-4400 or visit the San Jose cannabis club online at http://www.sjmedmar.com. MedMar is located at 170 South Autumn Street, San Jose, CA 95110.
About MedMar Healing Center
MedMar Healing Center is a San Jose marijuana dispensary, acting as an easily accessible resource for Bay Area medical marijuana patients. They are a community-based San Jose medical cannabis club centrally located in downtown San Jose, only blocks from the San Jose Sharks home, HP Pavilion. They are close to major freeways and thoroughfares, and are located near all the major public transit options, including Diridon Station.
MedMar provides residents of San Jose with medical marijuana in many forms, including flowers, hash, edibles, and concentrates. MedMar Healing Center tests each of their strains of medicine for a cannabinoid profile, which helps their knowledgeable staff recommend the best medicine for the diverse ailments of each client.
###