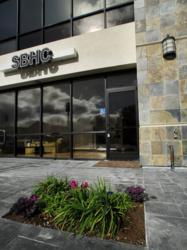 We accept all donations, small or large, and as always 100% of the donation proceeds go to the cause
San Jose, CA (PRWEB) January 18, 2012
San Jose medical marijuana dispensary, South Bay Healing Center appreciates their community and enjoys hosting drives to raise funds for those in need. Some of the past donation drives South Bay has hosted include Toys for Tots, Second Harvest Food, and Wine to Waves MS Bike Ride.
The season's toy drive recently ended which benefitted a local family homeless shelter called "InnVision." This local shelter focuses on family needs and offers strong programs to educate and teach skills to the residents so that they can be successful when entering back into the work force.
The toy drive, geared toward youth and teens, collected almost two full bins of new toys in less than 23 days. For more information about InnVision, visit: http://www.innvision.org.
A warm clothing drive called "One Warm Coat" is collecting donations through Jan. 31. All warm clothing collected by South Bay Healing Center will also benefit San Jose's InnVision.
"We are overflowing with warm clothing donations," said Pat Sullivan, General Manager of South Bay Healing Center, "but the more the merrier!"
Hosting community donation drives has been an important part of the foundation of South Bay Healing Center since they opened. South Bay Healing Center was founded on the commitment of improving the lives of their patients, which includes the community where they all live and work.
"We accept all donations, small or large, and as always 100% of the donation proceeds go to the cause. SBHC also matches most drives dollar for dollar," said Pat. "We do encourage both patients and non-patients to join in and donate. There is always an incentive program set per drive for all patients. Each donation drive is held on site for 30 to 60 days, and is advertises on our website, Facebook, and Weed Maps account. "
For more information on South Bay Healing Center, call (408) 899-4676 or visit them online at http://www.southbayhealingcenter-sj.com. South Bay Healing Center is located at 991 Saratoga Ave., San Jose, CA.
About South Bay Healing Center
South Bay Healing Center is a full-service marijuana dispensary and marijuana club. Their boutique style collective offers a selection of the finest medicinal strains, concentrates, edibles, and clones. SBHC strives to provide a healing solution that excels with professionalism and compassion.
South Bay Healing Center was created to enhance the development of physical, mental, and emotional fitness of its members, find solutions for, and share knowledge of the health problems of its members, and to facilitate and coordinate the cultivation and distribution among the members of herbal remedies including cannabis for medical purposes as lawfully permitted in the State of California.
###