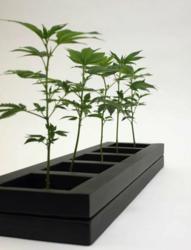 You can make a greenhouse out of practically anything!
San Jose, CA (PRWEB) February 11, 2012
Elemental Wellness Center, a San Jose medical cannabis dispensary, continues to host the ever-popular Crop Circle Grow Club every Sunday at 3pm. Since its inception over a year ago, the free weekly workshop has sprouted into an exciting think tank, lead by expert cultivator Josh Jones, who has over 10 years of experience as a consultant, teaching patients everything they need to know to grow their own medicine.
The 2012 growing season is fast approaching, and for the month of February, Elemental Wellness will be conducting a special series focused on getting a garden started right. Whether they're looking to build on a budget or aiming for an advanced set up, Josh will help growers meet their gardening goals. The first week launches with How to Build a Greenhouse, followed by Crop Shop, and then Tools & Equipment. Josh will cover such topics as temperature and humidity controls, high pressure sodium (HPS) vs. metal halide (MH) lighting, automatic timers, and how to choose the right nutrients.
"This is an exciting time, when we get ready for our outdoor season. Some growers have already started with their gardens. So let's get fully prepared and join them," invites Josh. "You can make a greenhouse out of practically anything!"
The February 12th workshop, Crop Shop, will help growers decide what size and style grow room is right for them. It will address such questions as how much to spend and how much time it will take to maintain grow rooms of various sizes.
"One of our members built a small 4X4, 600 watt room. I helped him choose the right nutrients, and he got 6X the amount he spent on setup… all top shelf medicine, from clones he got at Elemental Wellness. It's amazing, and a testament to what we are trying to do here!"
The February 19th Crop Circle will focus on Tools and Equipment. Josh will help growers make smart choices when taking those critical first steps at the hydro store. Participants will learn what they specifically need for their setup to avoid making multiple shopping trips around town. Josh will invite the group to compare and contrast brands and share where to get the best deals.
"From grow media (such as soil, coco, and hydro) to nutrient selection to getting the right light, there are a lot of puzzle pieces to put together, but we help take the guesswork out of it." says Josh
For growers interested in growing green, going green, and saving green all at the same time, there will also be a special guest lecturer who will teach the secrets to stretching a dollar through green building practices. Certified by the National Association of Home Builders, Crop Circle's guest consultant will discuss straw bale construction, rainwater collection, environmental controls, proper ventilation and air tight sealing, all with money saving in mind.
The final session on February 26th will be a review of all the previous topics in the series, as well as a forum for growers to help each other troubleshoot any challenges they might be experiencing with their garden. Participants are encouraged to ask questions and bring in pictures to share with the group. At the end, participants will leave feeling more confident and prepared for a bountiful grow season!
Member participation in the cultivation process is essential to Elemental Wellness, which operates on a "closed loop" business model. Members of the collective are encouraged to grow their own medicine and provide any surplus back to the collective so that other members, who are unable to grow, have access to the medicine they need.
Crop Circle classes are open to medical cannabis patients with all levels of growing experience, from complete novices to experts. Josh provides a formal lesson plan with handouts and demonstrations to give the session cohesion and structure, while providing an open forum for discussion, to maintain an interesting and lively club dynamic.
For more information about the Crop Circle Grow Club, or for information about any of Elemental Wellness Center's products or services, call them at (408) 824-1809, view them on the web at elementalwellnesscenter.com, become a fan at facebook.com/elementalwellness, follow @elementalwell on Twitter, or visit their collective located at 711 Charcot Avenue in San Jose.
About Elemental Wellness Center
Elemental Wellness Center is a state-of-the-art medical cannabis club in San Jose with an open, spa-like atmosphere; a warm, welcoming environment; and a highly trained, expert staff. The medicine is lab-tested to detect the presence of mold, mildew, and biological contaminants, as well as pesticides, and is analyzed for THC, CBD, and CBN potency. Elemental Wellness specializes in rare and boutique strains, and butane-free hash, bubbles, melts, and waxes. The collective is dedicated to holistic healing of the mind, body and spirit, and has a healing room, community outreach center, and a library, with all services and classes included free in the membership. Members can enjoy free chair massage by on-staff licensed massage therapists every weekday from 11AM-3PM. Elemental Wellness is committed to giving back to members and the community, and has a fixed mark up on all their products. All profits go back into improving the collective or are donated to charity. With paintings and sculptures from local artists featured on its walls, this San Jose medical marijuana dispensary is a local hub for creative, healing energy. Elemental Wellness was voted best dispensary in northern California by WeedMaps.com, and won 2nd place in the High Times Medical Cannabis Cup in both 2010 and 2011 for its in-house strain, The True OG.
###