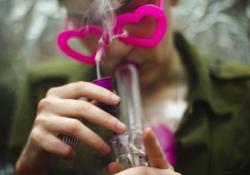 We want to show women that we have a comfortable environment, and that we appreciate their business enough to dedicate a special day for them
San Jose, CA (Vocus/PRWEB) May 20, 2011
MedEx Collective + Deliveries, a South Bay medical marijuana collective and delivery service, is holding Women's Appreciation Day on the 14th of every month. Ladies receive 10% off all products and are entitled to enjoy free services such as a massages or manicures. A percentage of the profit made on the 14th of every month, which includes profits made from male customers as well, will be donated to Breast Cancer Research.
"80% of our patients are men," said Michael of MedEx. "We want to show women that we have a comfortable environment, and that we appreciate their business enough to dedicate a special day for them."
MedEx products range from medical cannabis in the form of flower, oils, full melts, edibles, honey, lozenges and candy. They also sell seeds guaranteed to sprout, and offer free grow classes the second weekend of every month from 1 to 5 pm.
MedEx Collective + Deliveries also provides a safe and comfortable place to medicate, eat and enjoy the company of friends. They offer free dinners on Sunday and Monday nights, as well as free water, tea and coffee. With an abundance of recreational games on site, a lounge environment with cable TV, free Wi-Fi, and game systems available, it is easy to spend a whole afternoon enjoying the center.
For more information about Women's Appreciation Day or any of MedEx Collective + Deliveries' products or services, call them at 408-930-MEDX (6339) or view them on the web at http://www.medexcd.com or visit their center located at 2000 Senter Road in San Jose.
About MedEx Collective + Deliveries
MedEx Collective + Deliveries is a South Bay medical cannabis dispensary that specializes in medical cannabis and marijuana delivery in the South Bay. MedEx Collective + Deliveries serves the South San Francisco Bay Area communities of Alviso, Los Altos, Los Gatos, Menlo Park, Morgan Hill, Mountain View, Palo Alto, Santa Clara, San Jose and Sunnyvale.
###