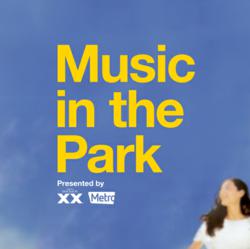 Our members love to enjoy good music, good food, and good company
San Jose, CA (PRWEB) July 25, 2011
There's nothing like spending quality time with family and friends at an outdoor concert on a warm summer evening. For 23 years, the free Music in the Park series at Plaza de Cesar Chavez in downtown San Jose has been a beloved local concert series. Unfortunately, driving and parking there can be a pain, so MedEx Collective + Deliveries, a South Bay medical marijuana collective and delivery service, is offering members a free ride to and from the Thursday night concerts all summer long.
"Our members love to enjoy good music, good food, and good company," said Michael of MedEx, "so we're making it easy for them to get to and from Music in the Park. Just look for the giant MedEx shuttle bus and flag down the driver."
The concerts start at 5:30 on Thursday evenings through the end of August. Neon Trees will headline on July 14th, with 5606 and Bad Suns. Upcoming artists include English Beat, Cracker, Dredg, Marcia Griffiths, and much more. For a full concert schedule, visit http://www.sjdowntown.com/Music_in_the_Park.html#info.
The concerts have lots of delicious local food, from hot dogs to veggie wraps to Hawaiian shaved ice. Participating restaurants include Pizza My Heart, Asmara's Hot Dogs, Peggy Sue's and Angelou's Taqueria, Fahrenheit's Lounge, Koa Restaurant Group, Good Karma Vegan Cafe and Catered Too!
MedEx members can catch a ride from the South Bay cannabis dispensary, located at 2000 Senter Road in San Jose. People are welcome to come hang out at the MedEx community center before and after the concerts, where they can enjoy an abundance of recreational games, a lounge environment with cable TV, free Wi-Fi, and game systems. MedEx carries over 30 strains of cannabis, concentrates, edibles (including drinks), a clone bar, and of course, discreet delivery services to members throughout the greater South Bay.
For more information about free transportation to and from Music in the Park, or any of MedEx Collective + Deliveries' products or services, call them at 408-930-MEDX (6339) or view them on the web at http://www.medexcd.com or visit their center located at 2000 Senter Road in San Jose.
About MedEx Collective + Deliveries
MedEx Collective + Deliveries is a South Bay medical cannabis dispensary that specializes in medical cannabis and marijuana delivery in the South Bay. MedEx Collective + Deliveries serves the South San Francisco Bay Area communities of Alviso, Los Altos, Los Gatos, Menlo Park, Morgan Hill, Mountain View, Palo Alto, Santa Clara, San Jose and Sunnyvale.
###