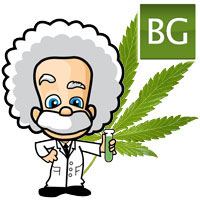 This will offer patients the ability to discreetly pursue medical marijuana treatment from the privacy of their home.
Los Angeles, CA (PRWEB) February 27, 2012
BG Medical Technologies (OTC: RIGH) has announced development of a USB-enabled diagnostic support device that will facilitate patients suffering from critical illnesses such as cancer, to match the most effective plant variants for physician-recommended medical marijuana treatments. The device will collect patient data in a non-invasive manner by detecting subtle shifts in the patient's physiology and then upload encrypted data to HIPAA-compliant servers for further analysis and physician review. Physicians will interact with patients and data history through a bundled video conferencing application. This will offer patients the ability to discreetly pursue medical marijuana treatment from the privacy of their home. For states with telemedicine restrictions, services will be made available for use within physician offices. This system also seeks to improve medical marijuana treatment programs by involving physicians more than once per year to better evaluate treatment effectiveness and applicability.
The diagnostic support system works in tandem with BG Medical's BudGenius.com laboratory research and ongoing data collection to identify marijuana strains that present the most beneficial ratios of medicinal compounds that are likely to best serve the patient's needs. Medicine locator services will also be used to locate cannabis strains currently available within the patient's travel radius. BudGenius services will continue to be expanded with new features to support the diagnostic system development, and will be further enhanced with new technology partnerships. BG Medical has stated that this announcement fulfills another component of their "natural medicine trifecta", an empirical data approach to administering natural medical marijuana treatments, as detailed in their product strategy guide.
"While our competitors are seeking to create pharmaceuticals that divide and isolate the helpful compounds in cannabis, we will continue to focus on systems that support treatments with organically developed medicines that are genetically predisposed to treat specific ailments in their natural form," adds Angel Stanz, CEO. "In the shadow of a failed healthcare system rife with expensive and toxic treatments, we believe the convergence of nature and Internet technologies will form the future of affordable preventative and curative medicine."
The USB hardware device is based upon technologies previously authorized by the FDA to enter clinical trials for the determining its effectiveness in breast cancer diagnosis. BG Medical Technologies will seek FDA approval of the final hardware implementation as a diagnostic support device.
About BG Medical Technologies
BG Medical Technologies develops ancillary support services for medical cannabis patients and professionals, including its flagship medical marijuana research laboratory and website portal, BudGenius.com. BG Medical Technologies, Inc. currently trades under the symbol OTC:RIGH. Symbol and name change pending.
About BudGenius.com
BudGenius.com is a social networking website, and leading provider of medical marijuana testing services located in California. In addition to cannabis safety screenings, BudGenius provides a unique rating system to assist patients in selecting marijuana strains more likely to efficiently treat specific medical conditions.
BG Medical Technologies and its companies do not sell, grow, harvest, cultivate, nor distribute medical cannabis. None of the statements made herein have been evaluated by the FDA, and therefore should not be construed as dispensing medical advice or making claims regarding the cure of diseases.
The foregoing press announcement contains forward-looking statements that can be identified by such terminology such as "believes," "expects," "potential," "plans," "suggests," "may," "should," "could," "intends," or similar expressions. Such forward-looking statements involve known and unknown risks, uncertainties and other factors that may cause the actual results to be materially different from any future results, performance or achievements expressed or implied by such statements. In particular, management's expectations could be affected by, among other things, uncertainties relating to our success in completing acquisitions, financing our operations, entering into strategic partnerships, engaging management and other matters disclosed by us in our public filings from time to time. Forward-looking statements speak only as to the date they are made. The Company does not undertake to update forward-looking statements to reflect circumstances or events that occur after the date the forward-looking statements are made.
Contact:
Angel Stanz
Chief Executive Officer
pr(at)bgmedtech(dot)com
(855) 723-3283
###