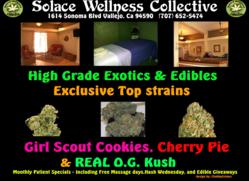 Join the movement. Get the most exotic high-grade strains on the planet.
Vallejo, CA (Vocus/PRWEB) May 24, 2011
Solace Wellness Collective offers several services and events that clients can choose from and enjoy each and every day.
Patients can medicate with "hash" at the clinic every Wednesday. The event, called "Hash Wednesday," takes place from 4:20 to 6:20 p.m. On Fridays at 4:20 p.m., patients can enjoy free medical edible fresh theater-style popcorn. "Join the movement," said Meghan Coppinnger of Solace Wellness Collective. "Get the most exotic high-grade strains on the planet." Solace Wellness Collective's mission is to provide a variety of unique medicine and teachings that help customers focus on natural healing and medication. In addition to the unique medicines available, Solace offers the finest in edibles.
Many clients have expressed their satisfaction in the Strains Cherry Pie and GS Cookies. Along with "Pink Panties" and "It's It," these are stains of medical cannabis." Massage has been used for centuries to heal and rejuvenate. With this in mind, Solace Wellness Center has put an emphasis on clients receiving treatment from a professional massage therapist. This service is available by appointment and for the final two Saturdays in the month of May, Solace will offer free massages to its clients.
Other services offered for better holistic therapy are yoga and patient classes for further development and discipline in natural healing. Solace Wellness Collective focuses on the growth and improvement of each client in following a healthy lifestyle with proper intake of natural medicine and proper practice of natural healing.
For more information, call 707-652-5474 or visit http://www.solacevallejo.com.
About Solace Wellness Collective
Solace Wellness Collective is a marijuana collective that strives to provide members throughout the Bay Area with comfort and support in an environment that enhances the mind, body, and spirit with natural holistic healing, education and experiences.
# # #