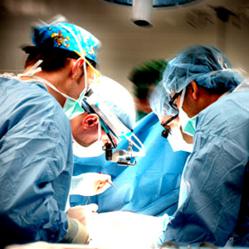 "It's absolutely despicable. I have no trust in the NHS whatsoever. We'll definitely take legal action"
Bolton, UK (PRWEB UK) 28 February 2013
In the wake of the death of Mr Ray Law, 60, senior NHS doctors are now questioning the ever growing pressure placed upon surgeons to meet unrealistic targets set by NHS officials leading to clinical negligence. (1)
Mr Law died of medical complications after having prostate surgery at Lincoln County Hospital in February of 2010 (1). Since then, its former chief executive, Mr Gary Walker, has spoken out against his reported £500,000 confidentiality agreement in revealing how patient care has become compromised under "dangerous" pressure from higher officials in order to ensure targets are reached to the detriment of patient safety and care, especially in emergency surgery. (1)
It is alleged that they are expected to perform an impracticable number of procedures, compromising the safety of the patients.
With ever growing resentment towards the NHS, with a string of failures coming to light in recent months, such as the Mid Staffordshire inquiry; more formal investigations are thought to be put into place to shed light on the failings of patient care.
In February 2013, Mr Law's widow Kathleen, spoke to The Daily Telegraph to express her distress and concerns over the matter. She spoke of her 'anger' about not being notified of the truth behind her husband's circumstances sooner. According to The Daily Telegraph Mr Law's daughter, Nikki, who will be looking for surgery compensation said:
"It's absolutely despicable. I have no trust in the NHS whatsoever. We'll definitely take legal action" (1)
According to The Telegraph report the spokesman for United Lincolnshire Hospitals NHS Trust said:
"We are sorry to hear about the concerns of the family of Charles Raymond Law. We offer our sincere condolences for their loss and would invite them to come and talk to us." (1)
Mr. Walker also claimed that Dame Barbara Hakin, while head of East Midlands Strategic Health Authority, had put pressure on him to take the hospital off "red alert"; a status telling medical staff when the hospital is at capacity, preventing people from being admitted to the hospital where they would then continue to receive unsatisfactory service.
The article continues to allege that he told the Today programme:
"I said the hospital is not safe to come off red alert because it's full. And the response was, 'We have a capital budget that we are going to approve today, and if you are still on red alert it's going to be difficult for me to support your case to the board."
He added:
"These sorts of threats are made to you, in order for you to keep trying to deliver targets." (2)
Unfortunately for many, decisions such as these are what leads to patients being neglected, and in the case of Mr. Law, death, because the hospital allegedly failed to admit him to a high dependency ward. (1)
If you've suffered from poor treatment or from medical negligence in an NHS hospital; Asons Solicitors may be able to help. You can visit them at http://www.asons.co.uk, or you can contact them directly on 0844 850 1062.
(1) 'Father died after surgery driven by regime of targets' The Telegraph, 14th Feb 2013
http://www.telegraph.co.uk/health/healthnews/9871844/Father-died-after-surgery-driven-by-regime-of-targets.html
(2) 'Patient died after surgeon was 'forced to carry out three operations in a day' at under-fire hospital' The Telegraph, Feb 14th 2013
http://www.telegraph.co.uk/health/healthnews/9869579/NHS-whistleblower-faces-ruin-after-speaking-out-about-patient-safety.html

About Asons Solicitors:
Asons Solicitors is a Bolton-based law practice that specialises in personal injury and industrial disease claims. Founded by brothers Imran Akram and Kamran Akram, Asons Solicitors has developed to become a young and dynamic law firm that delivers practical solutions to clients in times of difficulty. Their continued focus on their staff has seen them awarded with the Investors in People "Gold Award"; which is reflected in the professional and personable approach they take in working with clients. They strive to grow and to develop, and their supportiveness and attention to detail ensures that their clients use them time and again.
For further information contact:
Email: info(at)asons(dot)co(dot)uk
Website: http://www.asons.co.uk