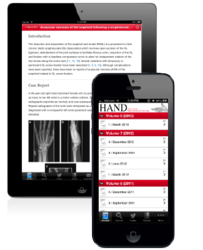 EventPilot Journal Edition brings mobile apps to medical and scientific journal publishing.
Santa Rosa, CA (PRWEB) May 06, 2013
ATIV Software today announced the release of the educational journal app EventPilot Journal Edition, an extension to ATIV's successful EventPilot mobile conference app. The journal app brings advanced functionality such as offline journal access, article-based notes/bookmarking, enhanced search/filtering and social media sharing to medical and scientific journals.
See the 60 second journal app video
With convenient access to the latest research articles anytime and anywhere, EventPilot Journal allows associations and publishers to offer readers what they want: powerful, personalized mobile offline article access. This professional app is designed to allow journal browsing and article-based note taking whenever the user needs it. Article and app access can be controlled via subscriber authentication and downloaded full articles are stored on the device for offline reading.
"We wanted to bring the robustness and sophistication of EventPilot to journals and magazines where features and functionality of mobile journal apps is still in its infancy," said Silke Fleischer, Co-Founder and CEO of ATIV Software. "EventPilot Journal Edition is a polished mobile app for associations who want to offer a high quality experience to their members."
EventPilot Journal Edition Features
Hierarchical Navigation with Intuitive User Interface and Personalization

Browse articles by volume, issue, category, or page flipping as you would with a print publication, plus the added benefit of quick access to your favorites. Easily navigate through the entire journal, bookmarked items, notes, or previously read articles.
Password Protection & Gated Articles

Limit access to the entire journal or to specific articles within the journal to subscribers only.
Quick Filter & Advanced Search

Filter issues by keywords, authors, bookmarks, or notes. Find articles of interest by searching across the entire journal for titles, authors, abstracts, or Digital Object Identifier (DOI). Limit results with the option to exclude keywords.
Offline Access

Download full articles for later offline reading. Review offline article summaries and abstracts at any time without having to rely on Wi-Fi.
Notes and Bookmarks

Take notes on articles and bookmark items of importance for quick future reference. Send an email with all notes and bookmarked articles.
Social Media

Increase the conversation about specific research articles in social media such as Twitter or Facebook.
EventPilot Journal Edition is available now for custom implementation for iOS 5.0 and higher as well as Android 2.3.3 and higher.
About ATIV Software
ATIV Software publishes EventPilot, the customizable mobile conference app that enables paperless events as well as EventPilot Journal edition for medical, scientific, and educational journals or magazines. EventPilot is available as a native app for the iPhone, iPod Touch, iPad, and Android as well as a mobile web version for all other web-enabled devices including Windows Phone 7. For more information and to learn about other features, visit http://www.ativsoftware.com.