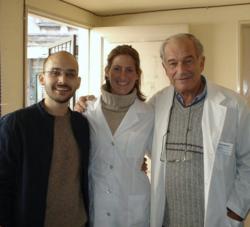 Students got a tremendous amount out of ECELA's medical immersion programs. They were able to learn about the positive aspects of the Argentine system and consider how to incorporate that knowledge into their future leadership positions.
Buenos Aires, Argentina (PRWEB) November 15, 2011
Recently ECELA announced the details for its 2012 Medical Spanish immersion programs in Argentina and Peru. ECELA will be offering two sessions next year; one will be taking place between May 20th and June 30th in Buenos Aires, Argentina, and the other between July 1st and August 11th in Cusco, Peru. Both programs are most suitable for pre-health students, however some spots are open for professionals or graduate students.
During the six-week course in Buenos Aires, students will learn skills and field-specific vocabulary necessary to communicate with Spanish-speaking patients in a healthcare setting. ECELA will provide tours of various medical facilities such as emergency response centers, addiction rehab clinics, and cardiology and psychiatric hospitals. While the bulk of the program does not require much prior Spanish, an additional medical shadowing option will only be available to students with advanced language abilities.
ECELA's Medical Spanish immersion program in the ancient Incan city of Cusco, also six weeks, will allow students to volunteer at a learning hospital, where they will shadow doctors, discuss key cases, and practice their Spanish in an immersive setting. Additionally, students will learn about Andean alternative medicine through visits to treatment centers such as plant-based medicines, hot rock therapy, acupuncture and massage.
Those who are admitted to ECELA's Medical Spanish immersion program will also participate in the school's standard language program. Although only six weeks (students may come early for more), the material and contact hours surpass the equivalent of two college semesters. The high volume of hours and small classes, never more than seven students, are key factors why students report such high learning success.
Both programs are open to only 30 students. In addition to Spanish classes and the medical immersion, students will enjoy recreational activities including tango or salsa dancing, regional cooking lessons, and tours of areas of historical and local significance.
Program coordinator Natasha Moreno commented on the previous year's program in Buenos Aires: "Students got a tremendous amount out of ECELA's medical immersion programs. They were able to learn about the positive aspects of the Argentine system and consider how to incorporate that knowledge into their future leadership positions."
About ECELA
ECELA operates Spanish schools in the South American countries of Argentina, Chile, and Peru. ECELA instructs over 1,900 students per year and the program's students originate from over 35 countries. With 20 hours of small group classes per week, cultural activities and excursions, and the advantages of living in a Spanish-speaking environment, immersion students advance very rapidly. To learn more about ECELA's Spanish & Medicine program visit http://www.ecela.com/services_medical.php
###