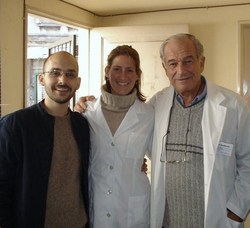 With our summer group program in Buenos Aires, we'll be able to host an extra two-dozen students this year.
(PRWEB) April 14, 2011
ECELA now offers a unique medical Spanish immersion programs in Buenos Aires (Argentina), Santiago (Chile) and Cusco (Peru), which are held in conjunction with its normal study abroad operations. Through this valuable initiative, students will not only learn Spanish, but also will gain experience participating in a hospital environment.
Through ECELA's standard medical spanish immersion, students shadow patient care twice a week at sponsored clinics. A special program in Buenos Aires this summer also includes tours of local hospitals, lectures on the Latin American health care system and joint volunteer events together with local Argentine medical students.
Participation in the medical Spanish immersion programs is limited, as usually only a few shadow positions at each location are open at any one time. However, the Buenos Aires summer program has spots for up to 24 students.
President of ECELA Spanish Schools Ken Ingraham stated, "We receive constant inquiries from premed college advisors about when we'll have more spots. With our summer group program in Buenos Aires, we'll be able to host an extra two-dozen students this year. Unfortunately, there is still a great deal of additional demand, so we'll work on adding more group medical programs for 2012."
Due to the fact that the United States has the second largest Spanish speaking population (behind only Mexico), when it comes to most health care jobs, knowledge of the language is tremendously beneficial. In fact, some jobs require health care providers to be Spanish speakers. ECELA students who have participated in a medical immersion program not only can add Spanish language skills to their applications, but also they can show that they have had been deeply immersed in the medical community of another culture.
ECELA's medical Spanish immersion program is appropriate for pre-health students and pre-med students who are seeking to study Spanish while observing activities in hospital environments.
About ECELA
ECELA operates Spanish language schools in the South American countries of Argentina, Chile and Peru. ECELA instructs over 2000 students per year and the program's students originate from over 30 countries. With 20 hours of small group classes per week, cultural activities and excursions, and the advantages of living in a Spanish-speaking environment, immersion students advance very rapidly. To learn more about ECELA's programs visit http://www.ecela.com.
# # #