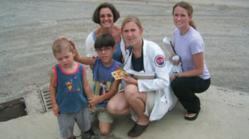 In some cultures, there may be social guidelines for female physicians interacting with male patients. In others, trust must be developed. This is why learning both the language & culture is so important for medical professionals.
Philadelphia, PA (PRWEB) July 30, 2011
AmeriSpan Study Abroad, a leader in educational travel, announces medical, nursing and other healthcare related students are increasingly traveling to learn Spanish in Costa Rica and other destinations in Latin America. Driven by the rapidly expanding number of Spanish-speaking patients, those who are pursuing healthcare professions are looking to learn Spanish. Many language experts have long recommended Spanish immersion programs as the best way to learn the language. This is due to the fact that the language surrounds the participant 24 hours a day.
A side benefit of immersing yourself in the culture is gaining knowledge naturally about interacting in that culture. "In some cultures, there may be social guidelines for female physicians interacting with male patients. In others a certain level of trust must be developed for a patient to feel comfortable. This is why going to the country and learning both the language and culture is so important for medical professionals," says AmeriSpan Senior Study Abroad consultant, Alexa Boyce.
Recent census numbers show that more than 50 million citizens of Hispanic descent are now residing in the US. This is changing the culture and attitudes of many professionals. For those that work directly with the public, knowing Spanish has become more than an asset, it's a necessity in many cities. For those in fields such as nursing, law enforcement or other areas where it may not always be feasible to call a translator, a working knowledge of Spanish can save lives.
AmeriSpan Study Abroad is currently offering such education via its SALUD Medical Spanish programs to help students find a way to learn not only Spanish language skills, but also gain crucial cultural insight that helps them be sensitive to patients' needs. This important knowledge is more readily grasped, say experts, in a live setting than in a classroom. For this reason, many medical and nursing students find that studying in the country while living with a local family and interacting in medical situations is the best way to learn. Medical students, nurses and allied health professionals can find this out for themselves at a Costa Rica Medical Spanish program or one of the other 11 countries in which AmeriSpan's SALUD programs are offered.
For those who want to learn more about the AmeriSpan Study Abroad programs offered today, the company has a great deal of information available at http://www.AmeriSpan.com, their website. There is a whole section about the Medical Spanish and Portuguese programs where students can see which program best fits their education, experience, language level and desire for career growth opportunities.
Founded in 1993, AmeriSpan Study Abroad offers more than 100 study abroad, language-learning and volunteer programs worldwide for participants of all ages and language level. The Philadelphia-based organization has long been an innovator in the study abroad field, building its reputation by offering high quality, low cost language immersion programs. In September 2010, the company was awarded its 2nd consecutive 'Star Award' as the Best Agency in North America, and is up for the award again in 2011. The industry's prestigious Star Award is voted by organizations worldwide and awarded annually.
###