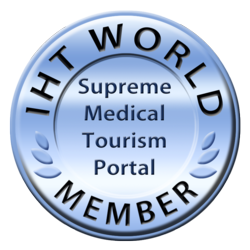 For a limited time, dental and medical tourism business can take advantage of unheard low prices
LeClaire, IA (PRWEB) May 07, 2012
IHT World was initially created to help address health care access issues. During IHT World's first year in business as a medical tourism facilitator, IHT World discovered that what people really want is simple, straight forward information to help enable a well informed decision. People seem to prefer gathering information and make arrangements independently at their leisure.
To meet the needs and desires of people searching for dental or medical tourism information, IHT World website recently launched a portal gateway of easy to understand information. People can even find information regarding how to obtain a passport and how to check safety ratings regarding countries around the world.
Most important, visitors will want to compare clinics and hospitals from around the world. Thus IHT World is providing a directory of quick, easy access to information regarding dental and medical tourism destinations.
In order to provide hospital, clinic, hotel, resort, etc. information, IHT World is offering dental and medical tourism related businesses, including hotels and resorts that cater to medical travel, free to low cost medical tourism advertising opportunities.
For a limited time, business can take advantage of unheard low prices with an annual agreement. However all business must be pre-approved, as they must meet IHT World's criteria for inclusion to ensure quality.
IHT World understands that medical tourism advertising can be extremely expensive. Therefore IHT World is helping dental and medical tourism businesses become more successful, while giving people free access to much needed dental and medical tourism information.
To discover more go to http://www.ihtworld.com