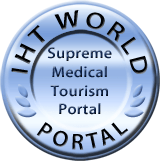 Hospitals and clinics catering to medical tourism may qualify for an annual advertisement package that results in a low rate of only twenty U.S. dollars monthly.
LeClaire, IA (PRWEB) May 25, 2012
People travel to various medical tourism destinations for a variety of reasons; from affordability to being placed on a waiting list for non-emergency surgery. Knee and hip replacement surgeries are both good examples.
Hospitals and clinics that offer medical tourism often struggle to get their name and services in front of the public eye. Medical tourism advertising costs can be an enormous financial burden, especially if online click-through advertisement methods are used.
Another problem concerning click-through advertising is that people who search for medical tourism information typically prefer to do their own research before making any decisions. After visiting the internet multiple times, then talking to friends and family, eventually a person will make a decision concerning medical tourism, including their preferred destination.
This fact renders click through advertising for medical tourism extremely expensive, sometimes turning less than a one percent closing sales rate.
To help hospitals and clinics overcome this high priced obstacle, IHT World implemented a global medical tourism destinations directory. When a health care facility advertises in IHT World's directory, that health care facility may qualify for an annual advertisement package that equals only twenty U.S. dollars monthly.
Of course hospitals and clinics want to know that their advertising dollars are well spent. IHT World currently enjoys page one rank on Google using various medical tourism related terms, resulting in highly targeted visitors.
People searching for medical tourism information prefer IHT World's website, because they find valuable information to help discover whether or not they are a good candidate for medical travel, as well as loads of tips and how to information. Of course all medical tourism information and tips are presented free of charge to website visitors.
For additional information visit http://www.ihtworld.com