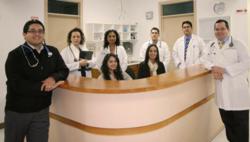 It is our mission to always offer our patients only the best in safety, effectiveness and affordability. Our group thoroughly researched the equipment available to offer the highest in quality and safety before we selected this equipment. This equipment
Saint Paul, Minnesota/Tijuana, Mexico (PRWEB) July 04, 2012
Ready4ACHANGE, a leader in medical facilitation, scheduling American and Canadian patients with highly skilled medical weight loss surgeons and facilities in Mexico, announced that the surgical team led by Fernando Garcia, MD, has installed unparalleled, state of the art medical endoscopy equipment to further enhance the safety and outcomes for their patients. This unique equipment was installed in the surgical suite at the new Tijuana Hospital Mi Doctor; a Joint Commission International approved medical facility.
Dr. Garcia, who has personally performed well over 1,000 bariatric weight loss procedures himself, said that "It is our mission to always offer our patients only the best in safety, effectiveness and affordability. Our group thoroughly researched the equipment available to offer the highest in quality and safety before we selected this equipment. This equipment puts us on par with some of the best facilities anywhere."
The Equipment:
Dr. Garcia and his team have integrated two new pieces of state of the art equipment into their surgical practice for even better patient outcomes. To assure the surgeon has the best possible view of the patient's surgical site and the placement of the surgeon's instruments, the team now uses a high definition, wide view, endoscopy system. This state of the art visualization equipment affords the finest clarity, the widest views, and the best depth perception available. The result is a more precise surgery performed in a lesser amount of time. The second piece of equipment now employed by the Garcia Surgical Team is Tri StapleTM Technology. This latest method of surgical wound closure means that patients will have stronger wound closure with less trauma to tissue for far better healing. The Garcia Surgical Team is proud to provide this state of the art surgical technology to its patients.
Alma Orozco and Judy Dohm, founders of Ready4AChange added that. "Dr Garcia and his team of experienced and skilled surgeons made the total commitment to personally select, purchase and have this equipment installed for their patients.
It is a testimonial to their personal and professional desire to provide only the best in safe, effective and affordable bariatric weight loss procedures to their patients.
Dr. Garcia has assembled a remarkable team of surgeons and medical professionals.
Dr. Garcia, who earned his medical degree (MD) at the University of Michoacana, has significant advanced surgical training in bariatrics and nearly 10 years experience of performing bariatric surgeries, himself. He is well published and a sought after medical speaker. He has performed Lap Band, Gastric Bypass, Mini Bypass, Gastric Sleeve, Duodenal Switch and Gastric Sleeve Plication surgeries. He is certified in the Allergan gastric band –one of only 2 FDA approved gastric bands—as well as in the Vertical Sleeve Gastrectomy, Gastric Bypass and Duodenal Switch.
In addition to a fully trained laparoscopic surgical RN, Dr. Garcia's surgical team includes a general and cardiovascular anesthesiologist with training from the Texas Heart Institute, St Luke's Episcopal Hospital, Houston Texas; well trained general and laparoscopic surgeons; and, a specialized internal medicine physician with a focus on metabolic and cardiovascular care; The Tijuana Hospital Mi Doctor is recognized by the Medical Tourism Association of Mexico. For ease of access, the hospital is located just minutes from the US/ Mexico border.
Ready4AChange, LLC is a leading medical facilitator. As a scheduling service for Americans and Canadians seeking safe, effective and affordable bariatric weight loss surgery in Mexico, the staff of Ready4ACHANGE is focused to assist those seeking surgeons and dentists for safe, effective and affordable weight loss, cosmetic surgery, and cosmetic and general dentistry and other procedures.
For more information please contact Ready 4A Change at 800-270-7120, or info(at)ready4achange(dot)com.