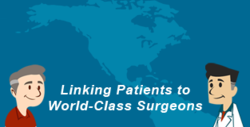 Selecting a doctor and hospital that meets the patient's preferences and needs is a task that should not be embarked upon without guidance.
Mexico (PRWEB) October 31, 2012
Medical procedures in Mexico are on the rise given the influx of patients from places such as the United States and Canada where many are seeking additional medical options beyond what is available in their home country. A recent article from International Surgeons of the Americas addressed a number of helpful tips for having a positive experience when arranging a surgical procedure abroad.
The private healthcare system is just now beginning to receive the attention it deserves. Options in the private sector are often considerably cheaper and more accessible than what is otherwise available through the government or a health insurance company.
Selecting a doctor and hospital that meets the patient's preferences and needs is a task that should not be embarked upon without guidance. Companies like ISA Surgical assist patients throughout the entire process of arranging for medical procedures in Mexico. The process begins when ISA Surgical helps a patient locate qualified providers and facilities. As liaison and advocate, ISA Surgical is there to walk the patient through the process of arranging for surgery in Mexico from beginning to end. This comprehensive level of service also includes a concierge desk to arrange for details such as travel arrangements, hotel accommodations and transfers.
ISA Surgical has done the research on the doctors to whom the patient would be connected. This established relationship between ISA Surgical and the surgeon in Mexico provides peace of mind for the patient. As one patient stated, "Without ISA Surgical I would not have had any idea where to begin my doctor search. They did all the work, and I just focused on getting well."
ISA Surgical acts as liaison between the selected network surgeon, the chosen hospital or surgical facility, the patient, and the patient's primary care doctor. Because ISA Surgical has an established relationship with its network surgeons, the process is smoother and faster, thereby allowing the focus to be on the patient and his or her comfort. ISA's network of surgeons specialize in cardiovascular surgery, dental work and other lifesaving and cosmetic surgical treatments at a fraction of the cost of these procedures in the United States.
About ISA Surgical
ISA Surgical is a physician-owned and operated organization that skillfully coordinates surgical needs for patients seeking affordable private medical care. From its inception, the medical tourism advocates have designed their process for providing international surgical solutions to stand out in the field of medical tourism companies. Patients researching international surgery options can visit the ISA Surgical Youtube Channel to view videos of patient testimonials and overviews of their surgical solutions for medical travelers. Through its network of highly qualified doctors and specialists, ISA Surgical acts as liaison between the best professionals in the field and the patient. The patient and the patient's unique needs are at the forefront of every decision. Patients are provided choices for their care and assisted with all affairs from travel to hotel accommodations.