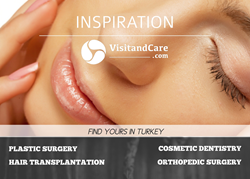 We are confident that with our commitment to medical tourism in Turkey, patients receive the best technology and treatments in this very important area of modern medicine.
Chicago, IL (PRWEB) October 14, 2014
With an emphasis to boost tourism and narrow its current financial deficit — acknowledged as its main economic weakness — Turkey is on a mission to raise awareness for medical treatment abroad. This very pulse and energetic flow has elevated the VisitandCare.com brand to new heights in the health tourism industry.
Of the 37 million tourists visiting Turkey in 2013, over 300,000 came for medical procedures, diversifying from plastic surgery and hair transplants to dental care and orthopedic surgery. More and more patients are coming from western European countries like Germany, the Netherlands, Belgium, and Algeria.
"Rising consumer confidence in medical treatment abroad, coupled with momentum in the industry itself, has boosted brand revenue in 2014," stated Tolga Umar, CEO and Founder of VisitandCare.com. "We are confident that with our commitment to medical tourism in Turkey, patients receive the best technology and treatments in this very important area of modern medicine."
Turkey's Healthcare Industry Flourishing —
While many individuals are fleeing from their own heavily congested health systems, the significant factor for medical tourism in Turkey remains its consistency in scheduling medical treatments without infuriating waiting lists and substantial costs.
Why Choose Turkey for Healthcare?

Turkey has the largest number of JCI accredited healthcare institutions in the world.
Turkey is renowned as a competitive and modernized healthcare destination.
High level of standards for physicians ensure successful results in a wide variety of specialties.
Culturally vibrant atmosphere in urban Turkish cities allow for relaxation and comfort.
The incredibly central geographical location of Turkey gives patients easy access.
No waiting lists combined with reliable and consistent quotes for current treatments.
Accredited Turkish hospitals are equipped with modern equipment.
Top healthcare providers — ROMOY Healthcare, EsteWorld — correspondingly allure patients with world-class doctors and the luxuriously modern facilities that are flourishing in Turkey's healthcare industry.
Blossoming Healthcare Opportunities —
Enormously enamored by Turkey's one-of-a-kind luxury accommodations and Mediterranean delights — the country is seeing a consistent rise in holiday highfliers, however the medical side of tourism in Turkey is now a blossoming private healthcare business.
With over 1,000 public hospitals and private hospitals working under the Ministry of Health in Turkey, several hold domestic and international certification, including the JCI (Joint Commissions International), the JACHO (Joint Commission on Accreditation of Healthcare Organizations), and ISO (International Organization for Standardization). The prosperous hospitals and clinics also receive the highest quality American medical support, including the Harvard Medical School and Johns Hopkins Medicine.
Defined by its extremely advanced and sophisticated infrastructure in all types of tourism, the physical environment — Ankara, Istanbul, and Antalya — alongside the availability of expert doctors is incredible.
The Ministry of Health recently alluded to the goal of reaching the $20 billion mark in health tourism revenue by 2023, and estimates a 15-20 percent growth in the sector by the end of 2014. To this note, the VisitandCare.com brand is very excited for its own future growth opportunities. The company also aims to achieve a significant rise in sales in 2014 to $18 million or more.
About VisitandCare.com
VisitandCare.com was created to give individuals worldwide valued direction locating a doctor, obtain free medical treatment quotes, and uncover affordable medical treatments at destinations of their choice. Improving Patients Lives |The company provides access to exclusive doctors and hospitals who specialize in infertility, plastic surgery, cosmetic dentistry, laser eye surgery, orthopedic surgery, hair transplantation, weight loss surgery, heart surgery and cancer care. Patients are matched with devoted multilingual patient facilitators and provided tangible connections to doctors worldwide. Promoting Your Healthcare Brand | For the ultimate connection between the healthcare industry and patients worldwide, the company delivers an unrivaled commitment to create sustained value for medical partners. Contact VisitandCare.com to see if you are eligible to become a partner of the exclusive network.