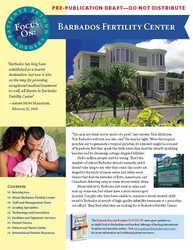 We provide the latest and best in assisted reproductive technologies, with an emphasis on physical, mental, and emotional balance
Chapel Hill, NC (Vocus) April 15, 2010
Patients Beyond Borders, the best-selling consumer reference guide for medical tourism, announces the release of FOCUS ON: Barbados Fertility Center. This 32-page, full-color, interactive digital publication and eBook is being released to coincide with National Infertility Awareness Week, April 21–May 1.
Barbados Fertility Center (BFC), located in Christ Church, Barbados, is an internationally renowned, JCI-accredited center of excellence, specializing in all aspects of infertility management. Its unique approach offers couples a stress-reduced, holiday-style experience with state-of-the-art IVF and related procedures that have resulted in high success rates for couples unable to conceive a child for a year or more.
Since opening its doors in 2002, the center has helped thousands of couples to realize their dreams of successfully conceiving a child, using the latest in assisted reproductive technologies. BFC's international team of specialists has also developed a Healthy Mind and Body Program, which incorporates reflexology, acupuncture, massage therapy, and counseling into their successful and affordable treatment plans. This holistic approach, coupled with the island's tranquil beaches and the center's cutting-edge technologies, plays a big role in BFC's enviable success rates.
Dr. Juliet Skinner, BFC's medical director, who graduated from Trinity College in Dublin, Ireland, and went on to specialize in obstetrics and gynecology, opened the clinic in her native Barbados in 2002. Realizing there were few options in the Caribbean region for couples experiencing infertility issues, she set out to develop a world-class IVF center specializing in state-of-the-art reproduction management in relaxed clinical and environmental surroundings.
"We provide the latest and best in assisted reproductive technologies, with an emphasis on physical, mental, and emotional balance," says Skinner. "In addition to traditional services, we offer a number of procedures that many couples do not have access to in their home countries, such as vitrification (fast freezing of embryos and eggs) and preimplantation genetic screening (PGS)."
According to Resolve, the nonprofit National Infertility Association dedicated to promoting reproductive health and awareness of reproductive disorders, infertility affects as many as 7.3 million people in the U.S. alone. It is estimated that as many as 1 in 8 couples in America will suffer infertility issues, many of whom will seek medical assistance in the form of drug therapy or medical procedures such as IVF.
BFC is the only fully American-accredited fertility clinic in the Caribbean, and one of the few such clinics in the world. Its high standards of excellence, coupled with cost savings of 30–60% on comparable treatments in North America and Europe, have created a compelling option for thousands of couples.
"We were pleased to feature Barbados Fertility Center in our international edition of Patients Beyond Borders and are thrilled to see their story now addressed in the greater detail provided by our new FOCUS ON: series," says Josef Woodman, CEO of Healthy Travel Media. "We hope to bring greater awareness of this truly remarkable facility to those seeking affordable, high-quality infertility treatments, coupled with a personal touch."
About Barbados Fertility Center
Barbados Fertility Center is an internationally renowned, JCI-accredited center of excellence, specializing in all aspects of infertility management. Located in Christ Church, Barbados, the center also operates satellite offices in Trinidad, Antigua, and St. Maarten. BFC offers a comprehensive and personalized approach to infertility, which ensures that every couple receives affordable, high-quality fertility care in one of the world's most desirable Caribbean locations.
FOCUS ON: Barbados Fertility Center will be accessible from a variety of sources, including the Patients Beyond Borders Web site, BFC's Web site, Kindle and other eBook readers, iPhone and other mobile devices, medical, business, and reference libraries worldwide, and distribution through all popular social networks.
For additional information, please contact BFC at:
Barbados Fertility Center
Seaston House
Hastings, Christ Church
Barbados, WEST INDIES BB15154
Tel: 246 435.7467
Email: info(at)barbadosivf(dot)org
Web: http://www.barbadosivf.org
Web: http://www.barbadosfertility.com
About Healthy Travel Media
Healthy Travel Media, an independent imprint based in Chapel Hill, NC, publishes books, eBooks, and online information on medical, health, and wellness travel. Its flagship international title, Patients Beyond Borders, now in its Second Edition, is the leading consumer reference guide for medical tourism and is filled with authoritative and accessible advice. Specialized editions have been published for Singapore, Korea, Taiwan, Malaysia, Thailand, and Turkey. The Patients Beyond Borders series is available through booksellers everywhere and is distributed to the retail trade by Publishers Group West (http://www.pgw.com).
For more information or media queries, please contact:
Judy Orchard
Tel: +1 919 545.0668
Email: jorchard(at)patientsbeyondborders(dot)com
Web: http://www.patientsbeyondborders.com
Qualified members of the media are invited to request a review copy; please contact jorchard(at)patientsbeyondborders(dot)com.
# # #