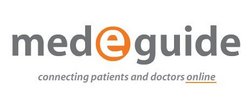 Increasingly, patients are using the web as their primary source for healthcare information
Bangkok, Thailand (PRWEB) April 30, 2009
Medeguide, a new online doctor search portal founded by medical tourism pioneer Ruben Toral, has formed a partnership with Admax Plus, a leading social media and search engine marketing firm.
Medeguide is a new web platform that helps patients find doctors and treatment packages online. The site will 'go live' on June 30, 2009 at the Healthcare Travel Congress in Singapore, and will contain profiles of top medical and surgical specialists around the world. This is the first site of its kind aimed at providing international doctors and hospitals an online platform to market their products and services locally and globally.
Medeguide's founder, Ruben Toral, is a recognized leader in the medical tourism industry. Formerly Group Marketing Director for Bumrungrad International hospital in Bangkok, Thailand, Ruben now provides consulting, branding and marketing support to hospitals and insurance companies as CEO of Mednet Asia (http://www.mednetasia.com). He is also President of the International Medical Travel Association (http://www.intlmta.org).
"Increasingly, patients are using the web as their primary source for healthcare information", explains Ruben Toral. "Patients want trustworthy, relevant information about doctors and treatment packages. Medeguide does that. We give them information that helps them makes better healthcare choices."
According to a 2006 Pew Internet study, 80% of American internet users have searched for healthcare information; 51% are looking for a specific treatment and 29% are looking for a particular doctor or hospital.
On the partnership with Admax Plus, Ruben is emphatic "Admax Plus is a proven leader in search engine and social media marketing. They have executed successful campaigns for Accor, Singapore Tourism Board and other top tier clients. No one I know does web based marketing better than Admax Plus."
Social media marketing is clearly the new frontier in online marketing. The growth of websites like Facebook and Twitter are testimony to the fact that people of all ages are using the web to connect. Wolfgang Jaegel, the founder and Regional Managing Director of Admax Plus, is an evangelist for this new breed of online marketing and clearly sees how consumers, doctors and hospital can benefit from a site like Medeguide.
"When people are looking for a doctor, they usually turn to friends and family for recommendations,' explains Jaegel, a social media marketing expert, "by combining a web platform like Medeguide with social media marketing you are creating a completely new environment for patients, doctors and hospitals to connect. The future of healthcare is clearly online."
About Admax Plus:
ADMAX Plus is a leading search and social media marketing company, providing a wide range of services and platforms that include press release and article syndication, social media marketing, search-engine optimization, search-engine marketing, web-analytics implementation and consulting, and online-brand monitoring.
Since the launch of the company, ADMAX Plus has grown to a regional presence and serves global brands including: Accor, Asiativ, LG, Nestle, Ford, Mastercard, HSBC, NIKE, Samsung, Singapore Tourism Board and Symantec
About Medeguide:
Medeguide (http://www.medeguide.com) is a consumer portal to "find a doctor" and a web based marketing platform for doctors and hospitals. The company sells digital products to help doctors and hospitals promote their services and products online. The company will launch its consumer portal on June 30, 2009 and already has over 20 leading international hospitals and 500 doctors in 10 countries committed to participate at launch.
###