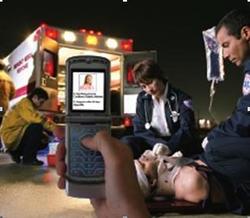 Does your phone have ESP?
Marina Del Rey, CA (PRWEB) October 30, 2007
MyRapidMD™ Corp - http://www.myrapidmd.com , is excited to announce that its Emergency Service Profile or "ESP" for cell phones, a medical alert service, has been selected as one of the TOP 20 PICKS at the National EMS Expo held in Orlando FL in October as judged by EMS Magazine (a Cygnus Publication).
"MyRapidMD's ESP medical alert v2.0 was selected from among over 400 new products and services being reviewed by EMS magazine so the competition to be selected as one of this year's top 20 picks was no easy thing to achieve," said Mr. Robert Rode VP of sales for MyRapidMD.
MyRapidMD's ESP medical alert service will be profiled as one of the new and innovative products of 2007 as judged by EMS Magazine in a special edition to be published in January 2008.
EMS Magazine has been published continuously since 1972. Informative and balanced editorial content make EMS Magazine the most authoritative source in the world for clinical and educational material designed to improve the delivery of pre-hospital emergency medical care. It is written, edited, illustrated and formatted to appeal to the full spectrum of EMS professionals: Paramedics, EMTs, administrators and instructors working in private and public services.
EMS Magazine reaches more EMS decision makers than any other EMS publication as well as reaching hundreds of thousands of EMS professionals annually.
MyRapidMD's ESP medical alert v2.0 is a proprietary software application designed specifically for cell or smart phones. ESP provides a concise Emergency Service Profile including a photo of the cell phone owner and is easily reviewed by selecting the ESP logo from the phone's desktop menu or applications folder. After completing your Emergency Service Profile at http://www.myrapidmd.com you will receive a text message with download instructions to install ESP on your cell phone, BlackBerry, Blackjack, Treo, or other smartphone. Once installed, ESP ONLY needs power to be reviewed by emergency personnel. Additionally, MyRapidMD's ESP has multiple backup systems in place, including a 24/7 automated call center, to deliver your emergency information should your phone be lost or broken during an accident or emergency.
MyRapidMD's ESP medical alert service was designed in concert with Firemen, Paramedics, Emergency Room Nurses and other first responders using an internationally recognized victim assessment protocol. MyRapidMD has formatted this protocol into a medical alert mobile software application that makes the cell phone an efficient and effective emergency information tool at the scene of an emergency or in transit to the ER. This is especially beneficial if the victim is unconscious, incoherent, incapacitated, has trouble with the English language or in multiple victim scenarios.
"Having just released ESP in September 2007 and for it to be recognized so quickly by a global authority with such a vast reach into the emergency services, medical alert and first responder communities, is a tremendous compliment and one we are very proud to have received. EMS professionals are the public's best chance of survival in an accident or medical emergency as time and information are critical. Inclusion in this year's TOP 20 Picks is recognition by the EMS community that ESP is a product of quality and value.
Not only is this a great honor, it gives us great confidence as a company to continue developing meaningful personal mobile content and clearly supports the company's ethos that a cell phone should do more than just text, talk and entertain…it should care," said Mark White Founder and President.
The ongoing benefit of something as simple as ESP on your cell phone does not stop with the proper emergency medical and contact information. ESP allows time and money to be saved as a result of a more accurate and informed diagnosis of the patient and assessment of the emergency scene. The wrong medications and diagnosis can result in extra time and tests in the hospital, all things that can be avoided with the right information at the right time, potentially reducing the cost of healthcare.
MyRapidMD's ESP is the 21st century medical alert information tool providing your vital information immediately. Your ESP information and photo can be updated regularly 24/7 and requires no third party involvement by the first responder when your emergency information is needed most, at the emergency scene.
MyRapidMD will be attending the Houston EMS Expo on Nov.18th 2007, followed by the Consumer Electronics Show in Las Vegas Nevada Jan. 8th 2008.
With more than 230 million cell phones in the USA, MyRapidMD's ESP medical alert service puts the opportunity to treat victims more efficiently and effectively at the scene of an emergency in the palm of your hand.
"Does your phone have ESP?"™
Mark White
MyRapidMD Corporation
Off: 877 9GET MRMD (877 943 8676) ext: 114
Email: info@myrapidmd.com
Web: http://www.myrapidmd.com
###