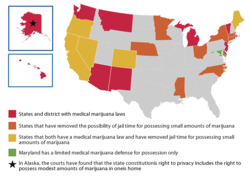 The White House can end the raids by removing marijuana from the list of Schedule I drugs with no medical uses. Since doctors in 16 states know the medical uses, Obama's claim is a misleading statement wrapped in a lie.
Sebastopol, CA (PRWEB) May 03, 2012
Dr. David Levitt, US Senate candidate running in California's June 5th primary, called on President Obama to clarify statements he made on marijuana in Rolling Stone magazine, which Attorney General Eric Holder soon acknowledged were misleading.
The Rolling Stone statements concerned the president's ability to end marijuana prohibition without new legislation. Obama claimed, "I can't nullify congressional law. I can't ask the Justice Department to say, 'Ignore completely a federal law that's on the books.' "
The Controlled Substances Act actually gives the Attorney General – Holder himself – the power to implement a process to reschedule cannabis administratively. Thus the White House can end the raids by removing marijuana from the list of Schedule I drugs with no medical uses.
"Since millions of patients, thousands of doctors and 16 states already have medical uses, Obama's failure to acknowledge that legalization route is a misleading statement wrapped in a lie," says Democratic Senate candidate David Levitt.
"The president ordinarily dodges or even giggles when asked questions about marijuana decriminalization. That's not helpful to us in California, where it's been 16 years since our Compassionate Use policy was approved under Prop 215, benefiting hundreds of thousands of patients with medical cannabis prescriptions. Both Holder and Obama have repeatedly vowed not to raid facilities that are following state law. But instead unprecedented federal raids, and threats of property forfeiture against landlords, are wreaking havoc on California patients and doctors, destroying some of our fastest growing businesses, and shredding millions in tax revenues -- while potentially re-igniting dormant cartels. To us, it's not that funny," says Levitt.
Holder's response to the Schedule I classification question was reported in the Huffington Post.
In the Rolling Stone interview, Obama also said, "I do think it's important and useful to have a broader debate about our drug laws."
Dr. Levitt agrees: "Let's have a grown-up debate about our failed marijuana policy during this election season. Instead of chuckling about it with comedians in Washington, Holder and Obama should visit and talk with patients, doctors, and the people of California -- who voted for medical cannabis and deserve to have their rights, businesses, and health protected. Once they've spent time in northern California and see cannabis is medicine – no joke – they'll understand how needlessly disruptive their policies have been. That will make updating its Schedule I classification easier."
"Meanwhile, these raids are a colossal mistake at every level," worries Levitt. "Democrats betraying Democrats in the biggest state in an election year – a typical self-inflicted wound. I know at least one doctor who won't be voting in November."
"It's amazing Assistant Attorney General Lanny Breuer from the infamous 'Fast and Furious' gun-walking scheme is still cluelessly helping Mexican cartels," says Levitt. "Instead, the White House should go back to keeping its promise to voters."
David Levitt, a black computer scientist and Democratic Senate candidate on California's June 5th primary ballot, aims to be one of the "top two" winners alongside Senator Dianne Feinstein. Under new primary rules, Democrats Feinstein and Levitt can both win if he is the runner-up, leaving no Republican on the November ballot.
Dr. Levitt's policy platform includes ending prohibition, Medicare for All, and investing in infrastructure and schools instead of war. He endorses the Contract for the American Dream.
The David Levitt for U.S. Senate campaign is located in Sebastopol, California.
Since he isn't wealthy or corporate funded, Dr. Levitt has to stand up for the people of California.
Like http://www.facebook.com/Levitt2012
Follow @Levitt2012
Give http://Levitt2012.org/donate
Vote.