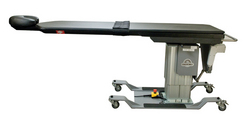 CFPM400 Medical Imaging Table released in March 2008 has been well received and recognized by pain management physicians and orthopedic surgeons world wide as a great fit and value
New Freedom, Pennsylvania (PRWEB) December 22, 2008
Oakworks® Inc., http://www.oakworks.com , reported the "CFPM400 Medical Imaging Table released in March 2008 has been well received and recognized by pain management physicians and orthopedic surgeons world wide as a great fit and value" to any new or expanding facility, propelling the CFPM400 Medical Imaging Table to be the company's top selling single tower medical imaging table.
As multiple disciplines of medical treatment are being consolidated and promoted in progressive facilities, cost utilization of square footage is imperative to the financial success of these clinics. "Most facilities can no longer dedicate large amounts of space for single use / application products. Multi-function products, serving multiple disciplines are the preferred investment today. The Oakworks CFPM400 C-Arm Imaging Table sets the new standard as the best value in mobile imaging tables." said Rich Elsen, Director - Medical Marketing
Incorporating Oakworks brand reputation for quality and reliability, the CFPM400 C-Arm Imaging Table is designed to accommodate mobile C-Arm and ceiling imaging systems.
The Table offers 56" of unobstructed imaging: ideal for image-guided procedures in pain management, cardiovascular, and spinal diagnostics imaging treatments. The 22" x 84" integrated headrest carbon fiber top is mounted on a new low profile base and can be easily moved from room to room and secured with four locking casters.
A dynamic height range of 26" (66cm) to 44" (112cm) accommodates low height patient wheelchair transfers to maximum height C-Arm mobility requirements for full lateral imaging. The integrated headrest top can support both prone and supine positioning requirements and the table has three additional ranges of motion: 10" (25cm) manual longitudinal travel, 15º Trendelenburg tilt, 12º Reverse Trendelenburg tilt, and +/-15º lateral tilt while at the same time supporting up to 500lbs (227kg) of patient weight.
The table is controlled by one hand and one foot control unit. Other standard features include 1 radiolucent table top pad, 1 crescent face rest pad, 2 supine cranial pads and a padded safety strap. The CFPM400 Imaging Table is FDA Listed, ETL Approved, and CE Marked.
About Oakworks: Since Oakworks' inception, they have maintained a strong commitment to environmental wellness and manufacturing products in the US. Oakworks' business model relies on ensuring sustainable resources - both natural and workforce-related; their proactive plan addresses both aspects of sustainability to ensure they are doing their part to preserve the health of our planet, while at the same time ensuring the well being of their employees. Learn more about Oakworks' Sustainability Statement.
Oakworks, Inc. is the premier manufacturer of medical, massage, wellness, and spa equipment in the U.S. with thirty years of precision manufacturing experience and the best quality control in the industry. With a 92,000 square foot state of the art facility located in Southern Pennsylvania, Oakworks is known for design innovation, sophisticated engineering, and quick turnaround time. Offering a unique commitment to U.S. manufacturing and environmental wellness, Oakworks is setting the global standard for medical, spa and massage tables and accessories. For more information, please visit http://www.oakworks.com.
Additional information on Oakworks and their products Contact:
Email address medical(at)oakworks(dot)com
Phone: 717.235.6807
Press Release Inquires Contact media(at)skadv(dot)com
# # #