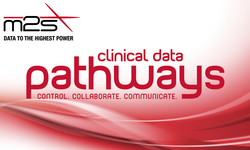 We selected M2S as our vendor because of its experience with vascular image management registries, its status as a six sigma company with established protocols for data integrity and its powerful database platform using Oracle Clinical
West Lebanon, NH (PRWEB) October 20, 2009
M2S, Inc. and the Vascular Study Group of New England (VSGNE) have partnered to advance the VSGNE quality improvement registry. Clinical Data Pathways, powered by M2S, is a secure, web-based clinical data management solution that offers physicians, hospitals, medical centers and clinical researchers the power to assess outcomes, enhance clinical quality and improve practice standards while providing the customer with complete control of their data.
The VSGNE quality improvement registry, formed in 2002, has prospectively collected data on more than 12,000 patients undergoing carotid endarterectomy, carotid stenting, lower extremity arterial bypass and open and endovascular repair of abdominal aortic aneurysms. There are currently twelve hospital members of the VSGNE from Massachusetts, Maine, New Hampshire and Vermont. By studying their outcomes, the group has been able to identify best processes of care and better patient selection algorithms to improve patient outcomes.
It is the vision of both the VSGNE and M2S that the vascular quality improvement registry model will be replicated in other regions of the United States, facilitating widespread benchmarking and quality initiatives to improve patient outcomes. The collection and exchange of anonymous aggregate data across multiple participants in the registry fosters continuous improvement in the quality, safety, effectiveness and cost of caring for patients.
"M2S is excited to be part of the VSGNE's mission to improve quality and enhance clinical outcomes within the region and across the country. As a provider of leading medical imaging tools for vascular surgeons, our company embraces technological advances and are certain that our data management solution will meet the growing needs of healthcare organizations," M2S CEO Wes Chapman commented.
"We selected M2S as our vendor because of its experience with vascular image management registries, its status as a six sigma company with established protocols for data integrity and its powerful database platform using Oracle Clinical," Jack Cronenwett, M.D. from Dartmouth-Hitchcock Medical Center and Principal Investigator of the VSGNE, stated.
About M2S, Inc.
M2S offers medical data and image management services across the healthcare continuum based on best-in-class technology and continuous quality improvement processes, including clinical data management solutions, clinical trials and advanced radiographic image analysis. With over 10 years of experience, M2S has created Clinical Data Pathways to give health care providers greater ownership and control of patient data, provide real-time access to risk-adjusted benchmarked reports and facilitate local, regional and national data collaboration. All M2S services focus on increasing operational efficiency, reducing total cost and maintaining or enhancing clinical quality. For more information, visit http://www.m2s.com.
###