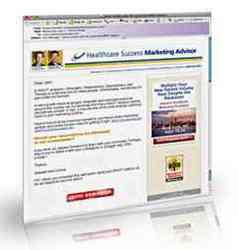 We write about the best practices we see in the marketplace today, plus draw upon our experiences working with thousands of health care clients over the years."
Irvine, CA (PRWEB) March 22, 2010
According to Stewart Gandolf, MBA, the complimentary medical marketing newsletter Healthcare Success Marketing Advisor has just surpassed over 10,000 subscribers.
Written and published exclusively by medical advertising agency Healthcare Success Strategies, topics include Internet marketing, how to increase doctor referrals, social media, patient referral strategies, branding, publicity, sales, medical advertising and more.
New subscribers also receive a complimentary download to the special report, "Seven Deadly Sins Of Healthcare Marketing." (11 pages, 784k.)
According to Gandolf, "We publish proven and practical content based upon 'what works.' We write about the best practices we see in the marketplace today, plus draw upon our experiences working with thousands of health care clients over the years."
Popular recent articles are currently available on the Healthcare Success Strategies website and on Gandolf's health care marketing blog.
The Healthcare Success Marketing Advisor is appropriate for all types of healthcare organizations including hospitals, practices, device manufacturers, pharmaceuticals and others.
About Healthcare Success Strategies (http://www.HealthcareSuccess.com):
In their 35 years combined experience, founding partners Lonnie Hirsch and Stewart Gandolf, MBA have spoken to tens of thousands of healthcare professionals across North America, are highly sought after writers and have consulted for more than 3,243 healthcare clients.
# # #