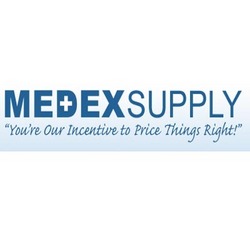 this has turned out to be a great market for us due to our specialties of helping and advising individuals on how best to care for themselves. No longer does everyone need to go to their doctor when they can monitor themselves with a friendly easy to use device.
Brooklyn, NY (PRWEB) December 17, 2007
MedexSupply, a medical supplies and medical equipment company today announced Holiday Specials and Discounts on Surgical and Durable Medical Equipment for Homes, Hospitals and Healthcare Practices.
While attending the NY Xpo at the Jacob Javits Center in New York City, New York, MedexSupply Discount Medical Supplies, Wholesale Medical Supply and Medical Equipment was able to bring to light the many advantages that the company brings to the healthcare industry.
Now that the winter season is upon us and is in full swing, people develop seasonal flus due to the closed quarters, offices and modes of transportation that are frequented. During the warmer months people aren't necessarily on top of each other in subways and closed rooms. Windows and doors are opened and that doesn't give germs and viruses the closed spaces that make it easy to spread amongst individuals.
In addition, "the cost of healthcare has been on everyone's mind since the government has created many challenges with HIPAA compliance, laws and regulations."
Put both government actions together with the higher cost of healthcare and we find that many families are treating themselves - and taking care using their own knowledge. Of course in the case of dire emergencies, people are still going to their doctors and visiting hospitals, but "overall we have noticed an increase in individual and personal home orders of our medical supplies."
It's not just that people are getting sick, "more and more people are taking better care of themselves, monitoring their blood pressure, diet, vitamin and nutrient intake and getting more exercise."
Some great products that people have been ordering for themselves are homecare beds, wheelchairs and hip chairs.
Company representatives state, "this has turned out to be a great market for us due to our specialties of helping and advising individuals on how best to care for themselves. No longer does everyone need to go to their doctor when they can monitor themselves with a friendly easy to use device."
Of course when it comes to emergencies and serious conditions, our number one rule is to advise people to visit their personal physicians immediately. We are the first to suggest that if a problem is recurring, they need to seek professional help. They should not rely on their own diagnoses when their health is at risk.
"We have a special unit for aiding all types of healthcare practices whether they are office-based or hospital based," continues the representative. "We supply close to every state in America and are proud to serve this country in good health."
With many years of experience in the medical and surgical supplies business, MedExSupply, Inc. is dedicated to serving the needs of hospitals, medical centers, nursing homes and health institutions. They pride themselves on their ability to offer a large variety of quality products at the lowest prices.
The goal at MedExSupply.com is to make the restocking job and shopping experience easier by offering a large selection of medical and surgical supplies. The online shopping cart provides a user friendly and secured checkout system.
Offices and individuals are encouraged to register at the website so they won't have to enter billing, shipping and payment information every time they check out. Members are also able to look up older invoices, track orders, reorder previously bought items quickly and easily without having to search for the same products again.
MedexSupply.com takes their customers concerns regarding their privacy and security very seriously. They do not sell or share their mailing list or any other client data with other companies or institutions.
Physicians and their office staff are recognizing that clinical care is their primary focus and ordering medical supplies and equipment from MedexSupply is fast and easy. They help administrative personnel with their ordering since they know what they need and at what time of the season. This streamlines the process so that they can go back to doing what they know best -and that is taking care of their own patients that are in their waiting rooms - not wasting time on the phone or online with complicated backoffice procedures. They are here to help their customers get what they need fast so that they can go back to dealing with more important things - people that are physically in their own office. As one customer representative states,"I can't tell you how many times office staff thanks us for making it so easy."
"Our customer representatives as well as website that operates 24 hours a day, seven days a week, truly allows administrators to quickly and efficiently order for any healthcare practice be it hospital-based or office-based."
The other advantage that MedexSupply has within the industry is that it knows first hand the difference in how hospital based practices work vs. the standard office-based practice. That means that you get outstanding service that improves the whole ordering process and of course, decreases any frustrations.
Insurance issues are always sprouting up and their knowledgeable customer service representatives always have the answers at their fingertips so they don't have to waste anyone's valuable time.
MedexSupply doesn't just sell medical supplies and equipment, they are experts in the industry that keeps them ahead of the game. Log on to their website or calll them at 888-433-2300 to find out more about becoming a MedexSupply partner or member and enjoy a great professional relationship with a truly remarkable company.
This press release has been distributed by SalemGlobal Internet Interactive Public Relations. Based in New York City, SalemGlobal (salemglobal.com) optimizes websites to increase traffic from search engines for the medical, healthcare, legal, automotive and real estate industries, provides lead generation and improves conversion of site visitors to buyers. Other services include general website marketing, search engine optimization, ecommerce solutions, content management systems, website hosting, web design and maintenance. For further information, please contact Raphi Salem at 646-217-4733.
###