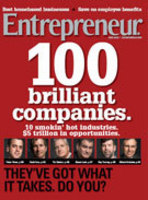 sectors that are defining and juicing the new economy…
Scottsdale, AZ (PRWEB) June 4, 2009
In Entrepreneur Magazine's annual "Hot 100" issue, Editor-in-Chief Amy C. Cosper says they first identified 10 hot market segments, "sectors that are defining and juicing the new economy…," then they "sniffed out 10 innovative companies within those industries that are reaping the fruits of their brilliance."
In their assessment of the $2.4 trillion healthcare sector, the magazine told their monthly audience of 3 million why MxSecure is one of 10 healthcare companies to watch: "With a presidential mandate calling for electronic medical records, MxSecure, which transcribes records using a 24-hour Internet-based system, is poised for growth."
MxSecure's President and CEO Colin Christie was thrilled with the magazine's assessment: "It's gratifying when someone outside the company recognizes not only what we've accomplished, but also our great potential for future growth. I'm pleased for our MxSecure team, and also thankful for our many clients."
Entrepreneur echoed Christie's sentiment, characterizing the healthcare companies they recognized as: "10 companies that know the best medicine for a bad recession is a stellar business model."
About MxSecure, Inc.
MxSecure, Inc. - the fastest growing provider of medical transcription services to medical practices as recognized by Inc. 5000 - serves thousands of health care providers in over 600 medical facilities nationwide. MxSecure clients include physician and group practices, community health centers and multi-state, multi-specialty clinics. The company's digital medical transcription and electronic document management system - MxTranscribe EHR™ - includes Internet-based access to files 24/7; online review and editing; single and dual electronic signature; key word search capabilities; distribution options for routing to network printers, faxing and secure e-mail; and detailed management reporting tools. MxTranscribe EHR™ is fully scalable to multiple clinic locations with no capital outlay required. MxSecure also offers MxNotes™, a user-friendly, internet-based transcription service designed exclusively for medical practices with fewer than three physicians. With MxNotes™ physicians can dictate, review and edit electronic transcriptions within 24 hours of signing up. For more information see http://www.MxSecure.com .
###