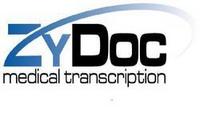 The ZyDoc platform and support staff add both the knowledge and technology base necessary to allow Administrative Advantage's clients instant access to the advanced solutions available in today's medical transcription service industry
Hauppauge, NY (PRWEB) August 11, 2009
U.S.-based ZyDoc Medical Transcription, a technology leader in medical transcription and related health care informatics, announced today that it has completed acquisition of Pennsylvania-based Administrative Advantage, a full-service medical transcription organization (MTSO) in business since 1994. The acquisition extends a prior strategic business alliance and strengthens market share for ZyDoc in a number of medical subspecialties, continuing ZyDoc's growth strategy and leveraging its technology advantages. The combined company will operate as ZyDoc Medical Transcription.
ZyDoc is a leading provider of customized web-based transcription (e-transcription) services for medical specialists, pharmaceutical companies, independent medical examinations, medical legal services, medical claims management and workers compensation insurance companies. The acquisition of Administrative Advantage enables ZyDoc to capture emerging growth opportunities and expand its customer base in these and other core services.
In April, 2009, Administrative Advantage selected ZyDoc's award-winning platform as its e-transcription workflow solution for Administrative Advantage clients. The ZyDoc platform aligned the companies for acquisition by providing improved efficiency, lower costs and leveraging of the ZyDoc Data Center's potential for expansion. Existing Administrative Advantage clients experienced a smooth transition process that mitigated client risk, which served to facilitate the acquisition.
Administrative Advantage clients were seamlessly migrated from an aging legacy transcription infrastructure to ZyDoc's cutting edge web-based system within days, without interruption of services or change of dictation habits. The move was implemented to solve client needs, meet HIPAA requirements, and expand the capabilities of the transcription platform. An additional task was to improve operational efficiency for Administrative Advantage by addressing limitations that were impairing growth.
The award-winning ZyDoc platform was readily accepted by the clients because of its extensive customizability. The platform accommodates EMR integration options, telephone or digital voice recorder dictation from any location, secure desktop delivery within 24 hours, real-time online job editing and tracking, large file transmission up to 2GB through Bulletproof Messenger, and other enhanced features not previously available through Administrative Advantage. The ZyDoc Operations Center also provided expanded 24/7 support to clients, which was especially critical for STAT work.
According to James Maisel, M.D., Chairman of ZyDoc, "ZyDoc continues to lead the industry with advanced technology solutions to address the unique operational challenges faced by medical offices in today's complicated IT environment. The e-transcription field is changing rapidly in response to new developments in EMR, evolving file transmission protocols, increased security and HIPAA requirements, and a drive to cost-effective, efficient workflow.
"ZyDoc's successful expansion strategy is based on a mix of acquisition, software development, and constantly raising the bar for excellent customer service. Although predictions have been floating around for years that the need for transcription may soon be obsolete, we are instead seeing increased demand for customizable value-added transcription services, and ZyDoc is experiencing regular month over month growth."
Marci Young, former owner of Administrative Advantage, has been retained as Senior Account Manager for ZyDoc. She will continue as the account manager for her former clients. "The ZyDoc platform and support staff add both the knowledge and technology base necessary to allow Administrative Advantage's clients instant access to the advanced solutions available in today's medical transcription service industry," states Young. "As an account manager, the acquisition provides me the ability to focus on my clients' needs as they transition into the demands of EMR compatibility."
ZyDoc, a respected name in the medical transcription field, is known for its award-winning user-friendly technology and excellent customer service. ZyDoc offers a wide range of full-service e-transcription solutions for any size medical practice, surpassing industry standards with a full complement of enhancements, including:

Secure web-based delivery to any PC desktop via Bulletproof Messenger
Quicker uploading and transmission of digital handheld dictations from any location
- even from home or secure hospital networks

Online editing, signing, faxing, and advanced searching
Job tracking in real time utilizing TrackDoc™
EMR integration, including options to return signed jobs into existing records
Job distribution to other health care providers via the Web, faxing, or mail center.
For other transcription companies, the ZyDoc platform is an attractive, cost-effective turn-key solution for meeting today's new complex security requirements for electronic medical information. Small and mid-sized MTSO's can license the platform to implement a reliable web-based back-end for their clients, without incurring the usual technology startup costs, technical requirements, or change in client behavior. Interested MTSO's are invited to contact ZyDoc for further information regarding client migration to the platform, and other advantages.
About ZyDoc Medical Transcription
Founded in 1993, ZyDoc is a privately held, full service e-transcription company featuring HIPAA compliant web-based records, e-signature, faxing, and legacy integration solutions. Physicians, transcription companies, and hospitals use these services to produce, organize, and distribute multispecialty patient documentation. ZyDoc solves the PC literacy, data entry bottle neck, implementation, and cost issues that plague other clinical documentation EMR companies. The company uses award-winning technology, workflow enhancements, and the Internet with ASP applications. ZyDoc is a development partner with SUNY Computer Sciences at Stony Brook, an Olympus authorized distributor, and an IBM speech premiere business partner. In 2004, ZyDoc was ranked 3rd nationally in medical transcription by the Medical Records Institute and has also won awards from the medical informatics, speech recognition, and software industries. The technology platform is augmented by 24-hour U.S.-based support through the ZyDoc Operations Center featuring unsurpassed accuracy. Highly accurate documents are ensured by accuracy measurement and continuous quality improvement workflow, backed by a staff of U.S.-based level II and III transcription editors, proofreaders, and a quality assurance team.
Press Contact
Adele Field
Marketing Director, ZyDoc Medical Transcription
1455 Veterans Memorial Highway
Hauppauge, NY 11749
1-800-546-5633 ext. 714
http://www.ZyDoc.com
###