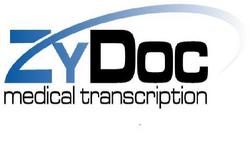 Hauppauge, NY (PRWEB) August 20, 2007
On August 14, 2007, the FDA issued a "black-box" cardiac risk warning label warning for the entire class of anti-diabetic drugs, known as thiazolidinediones (TZDs). The class includes Avandia (rosiglitazone), Actos (pioglitazone), and all combo-drugs containing these medications, such as Avandaryl (rosiglitazone and glimepiride), Avandamet (rosiglitazone and metformin) and Duetact (pioglitazone and glimepride). In January 2006, the U.S. Food and Drug Administration (FDA) issued a MedWatch alert notifying physicians of reports of new onset or worsening macular edema in patients taking Avandia.
Faced with this information, physicians using paper-based medical records had no practical way to identify which of their thousands of patients were taking these medications, unless patients called with questions or they reviewed their charts manually. However, physicians using the ZyDoc Medical Transcription service were automatically notified as to which of their patients were using these medications when they logged into their web-based ZyDoc TrackDoc transcription system on June 11, 2007, following the initial advisory of concerns two months prior to the actual warning release.
James M. Maisel, M.D., ZyDoc Chairman and a vitreoretinal surgeon explains, "As a provider and repository of web-based medical transcription records, we felt an obligation to help our physicians identify patients pertaining to this advisory. Advisories, recalls and warnings have become a growing problem for physicians and patients, as illustrated by recent complications concerning not only medications such as Vioxx and ADHD drugs but devices such as defibrillators, over the counter items such as contact lens solutions and environmental exposure to asbestos that can cause mesothelioma. While most physicians struggle with indentifying their at-risk patients, ZyDoc can easily analyze a physician's previously transcribed word processing documents and extract the vital data. Physicians using the ZyDoc medical transcription service were immediately informed which of their patients might be affected by the advisory as part of their standard operating procedure when they logged on in the morning to review their web-based transcription delivery service accounts. As always, patient confidentiality was not compromised. No one has been able to deliver this type of critical clinical information as part of the daily workflow. Further development of data mining will allow any medical practice using transcription to participate in the electronic record revolution."
Availability
Doctors can obtain information and enroll on the ZyDoc Medical Transcription web site for a free trial of ZyDoc transcription services. Physicians can dictate using the TelDoc 800 telephone system or professional handheld digital recorders. ZyDoc is a leading provider of transcription services for specialty care group practices, ambulatory surgery centers and hospitals. ZyDoc medical transcription is also available as a member benefit through the International Physician Network (IPN), a subsidiary of AmerisourceBergen Corporation (NYSE: ABC).
About ZyDoc Medical Transcription
Founded in 1993, ZyDoc is a privately held, full service, medical transcription company featuring HIPAA compliant web-based records, e-signature, faxing, and legacy integration solutions. Physicians, transcription companies, and hospitals use these services to produce, organize, and distribute multispecialty patient documentation. ZyDoc solves the PC literacy, data entry bottle neck, implementation, and cost issues that plague other clinical documentation EMR companies. The company uses award winning technology, workflow enhancements, and the Internet with ASP applications. ZyDoc is a development partner with SUNY Computer Sciences at Stony Brook, an Olympus authorized distributor, and an IBM speech premiere business partner. In 2004, ZyDoc was ranked 3rd nationally in medical transcription by the Medical Records Institute and has also won awards from the medical informatics, speech recognition, and software industries. The technology platform is augmented by 24-hour US-based support through the ZyDoc Operation Center and features unsurpassed accuracy, customized solutions and five-star service. Highly accurate documents are ensured by accuracy measurement and continuous quality improvement workflow, backed by a staff of US-based level II and III transcription editors, proofreaders and quality assurance team.